The work of Alessandro Rauschmann is a compelling journey through the deepest
questions of the humankind relating to death, decay and beauty. From his beginnings,
he has been working on two different yet compatible levels spanning both
performance and sculpture.
Although visually and ontologically quite different ...
selection of artworks in chronological order
⬇
_Seelen Transfer
video 2018
starring Janina Rudenska | ca. 4.35min | full HD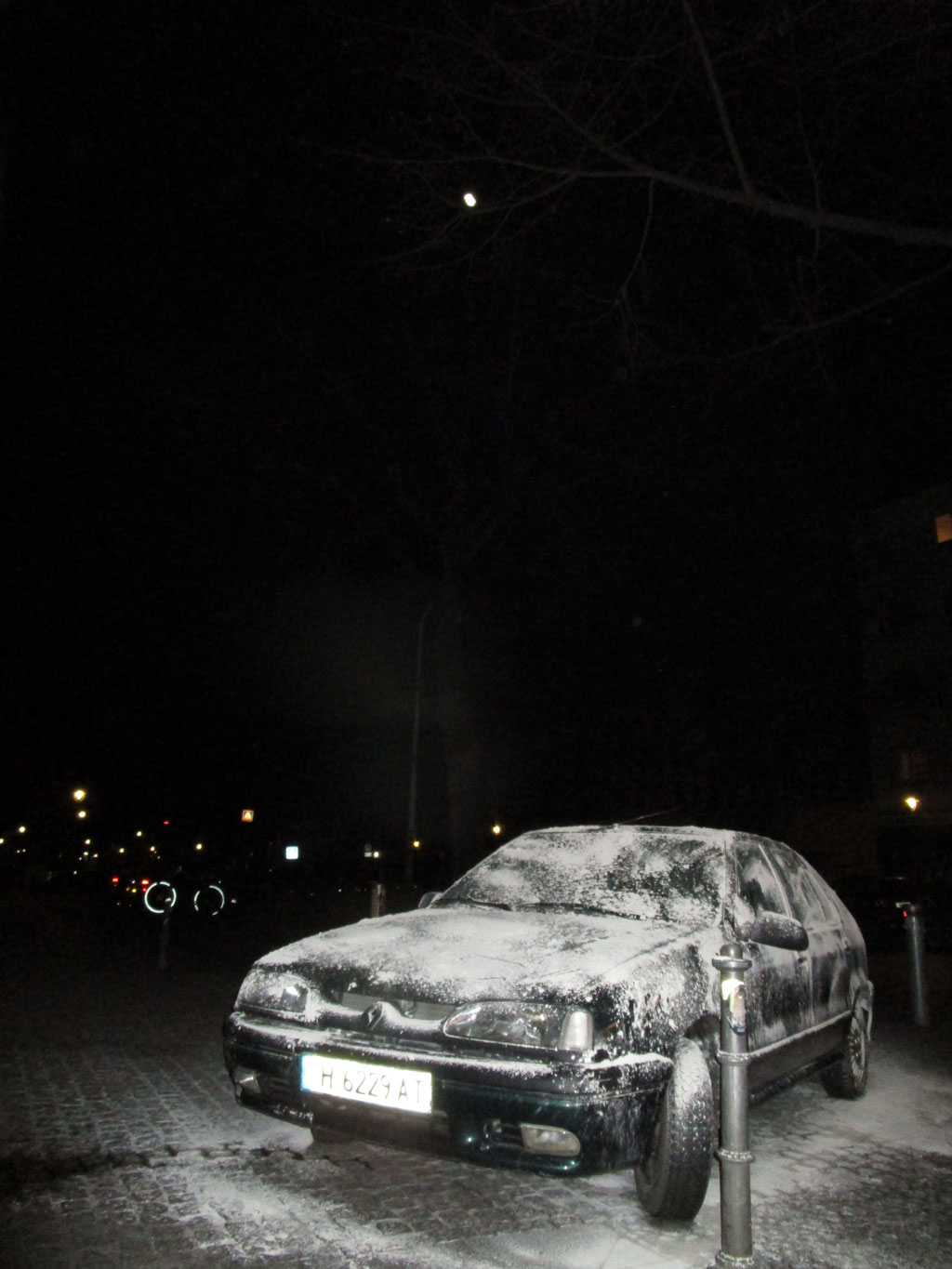 _Seelen Transfer
video / installation 2018
"Aktionen im Merz | Seelen Transfer", TAMAGO, Berlin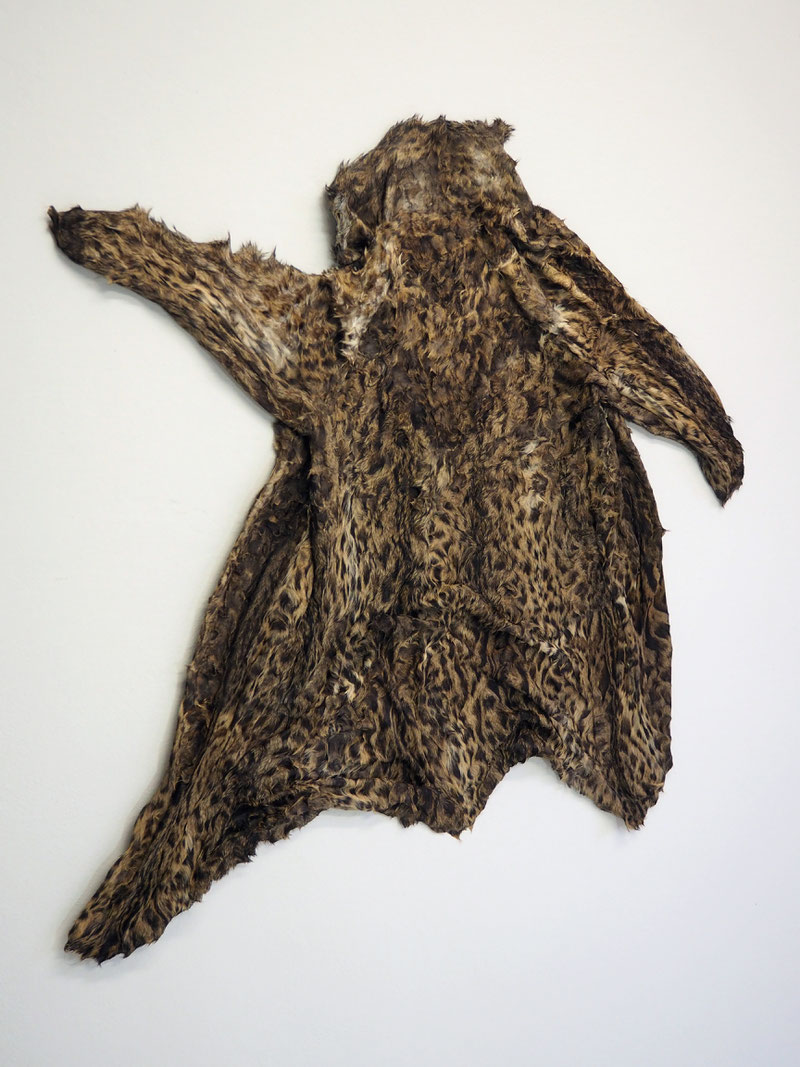 _Gattopardo
artefact 2018
leopard fur / ca. 108x122x6cm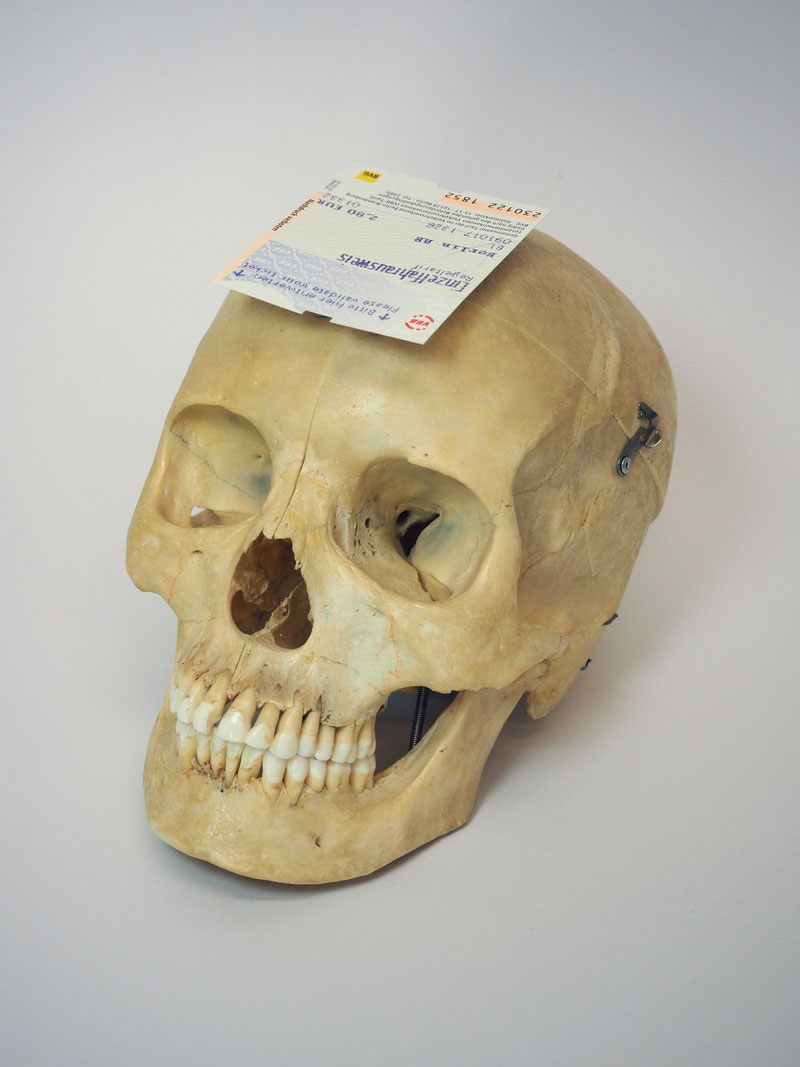 _Skull with MetroTicket
artefact 2017 
human skull, paper | 19x15x21cm 
To place metro tickets unmounted on human skulls is a contemporary mortuary cult in Naples. 
The raised skulls inside the Cimitero delle Fontanelle are "adopted" as nameless lost souls by the Neapolitans since centurys. 
They are included in the family prayers, but also temporarily taken away for family gatherings and placed home on pillows. 
Among other things, this cult (Ital. Culto delle anime pezzantelle) is based on the idea that the dead appear in the peoples dreams to thank for the care and the arrival in the hereafter. Approximately In 2015, the subway tickets were added to this tradition.
_U.I Culto delle anime pezzantelle
 digital photography | Napoli 2017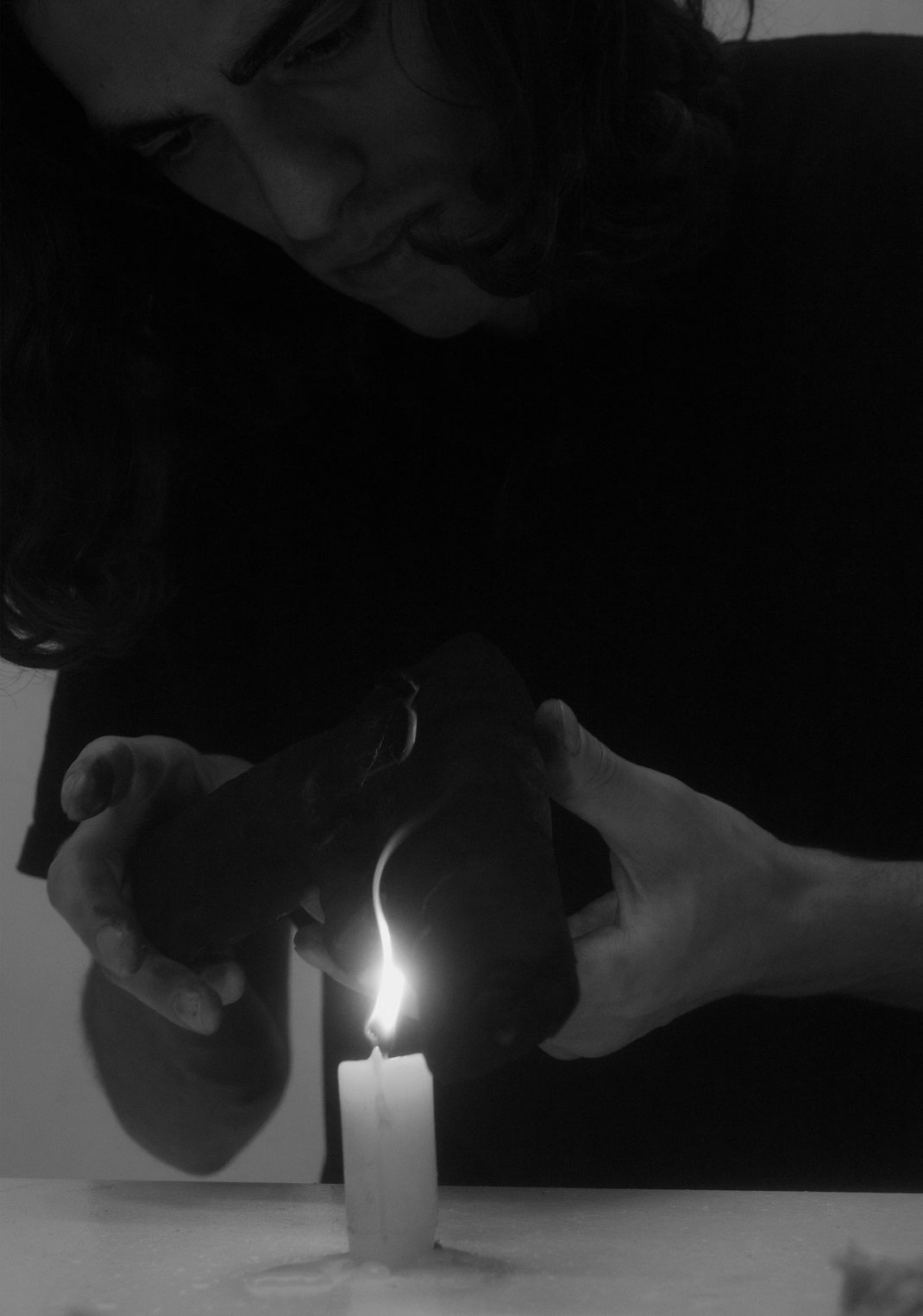 _Pistola di pane
performance 2017
"Aktionen im Merz | Pistola di pane" TAMAGO, Berlin
I am sitting at a table chewing bread without swallowing it.
Having enough of this viscous mass, I start to form a gun out of it.
I use a spoon to define edges and details.
After 1,5 hours the body of the gun is finished.
I move it slowly over the candle to dry it and blacken it with the soot.
After the gun is finished I stand up and leave the exhibition space holding the gun as if it is real.
The table remains in the space as well as an exposed newspaper article of the "Il mattino di Padua" reporting the
story of Alberto Cassol a former Italian partisan who was said to have escaped from prison using a gun made of bread.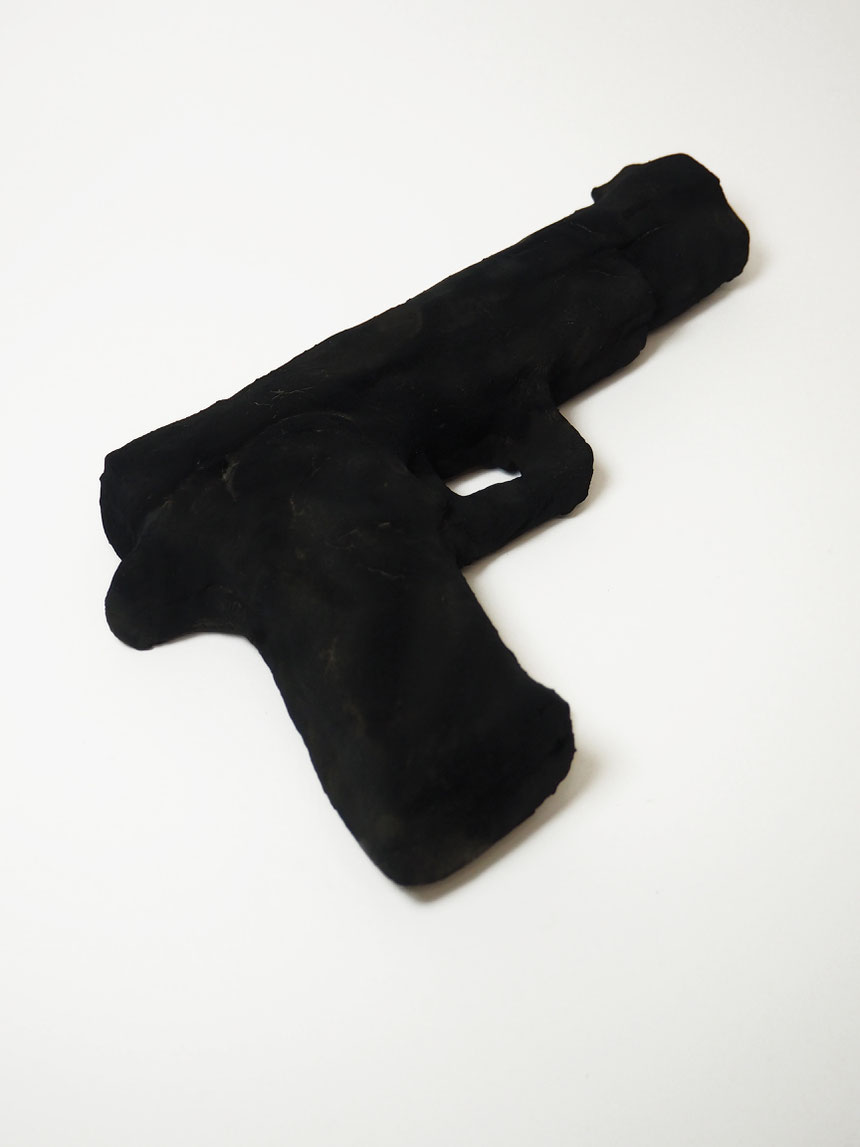 _Pistola di pane
relic 2017
bread, soot conserved with salt | ca. 13x3x21cm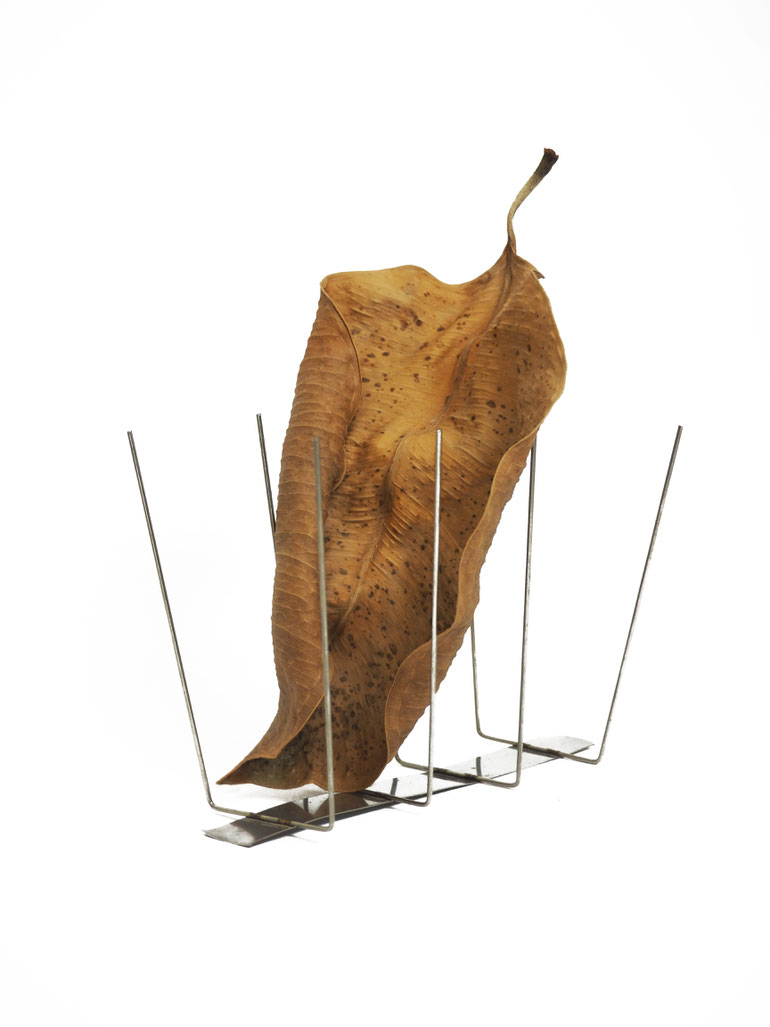 _Dilemma
artefact 2017
dried leaf, metal | ca. 17x11x6cm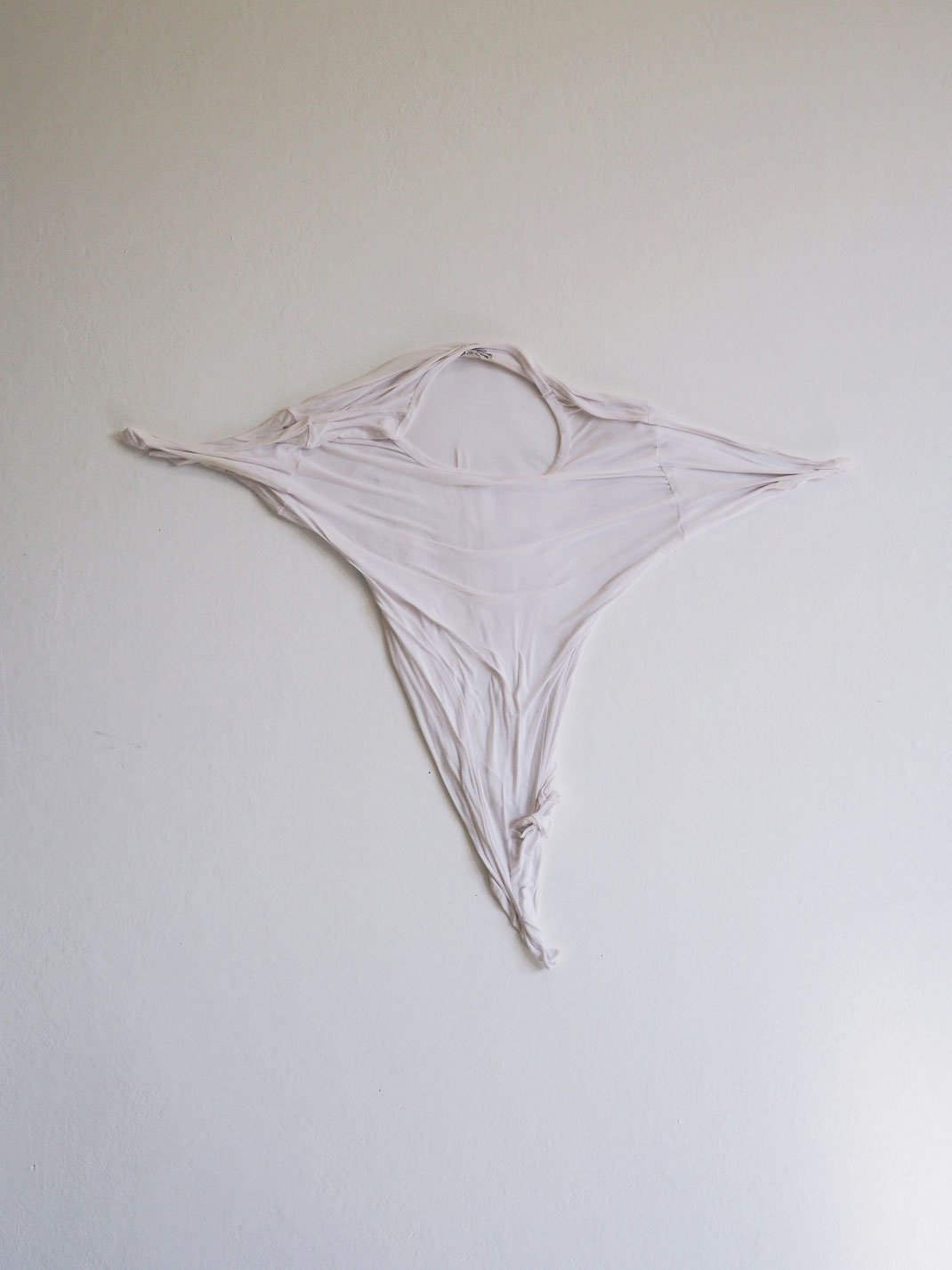 _Inri 
artefact 2017
T-shirt, glue | size M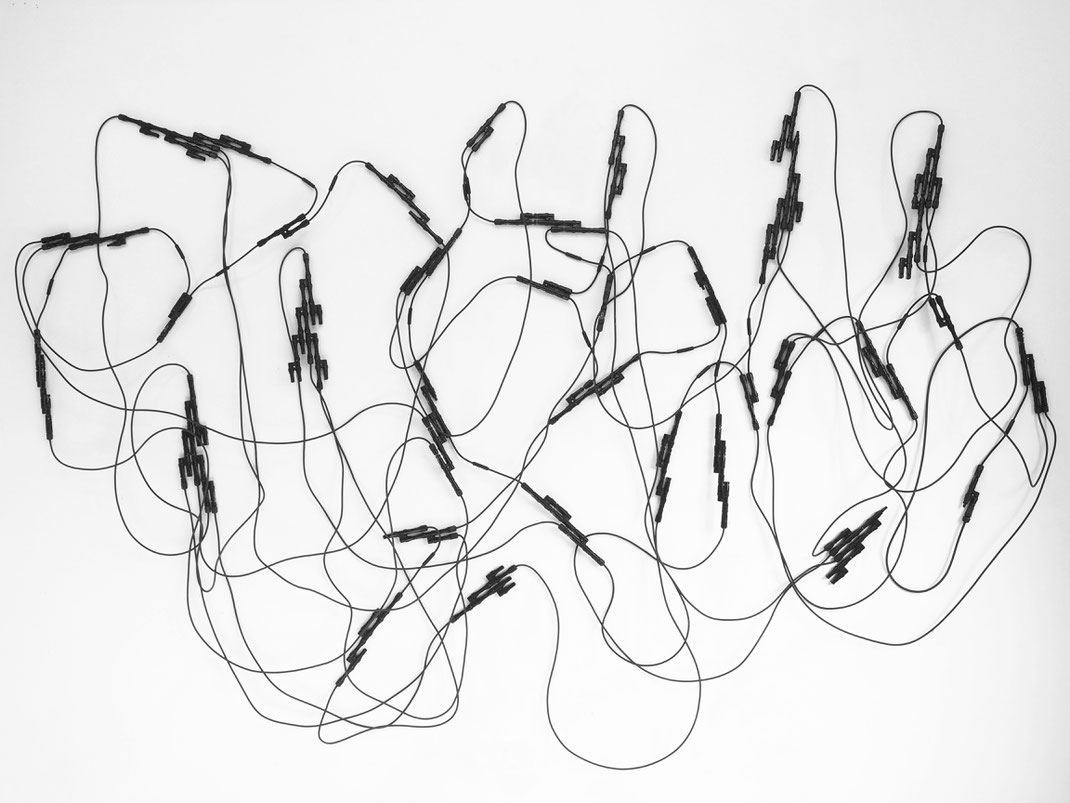 _Gedächtnis
artefact 2017
cables for photovoltaic plant | ca. 280x410x14cm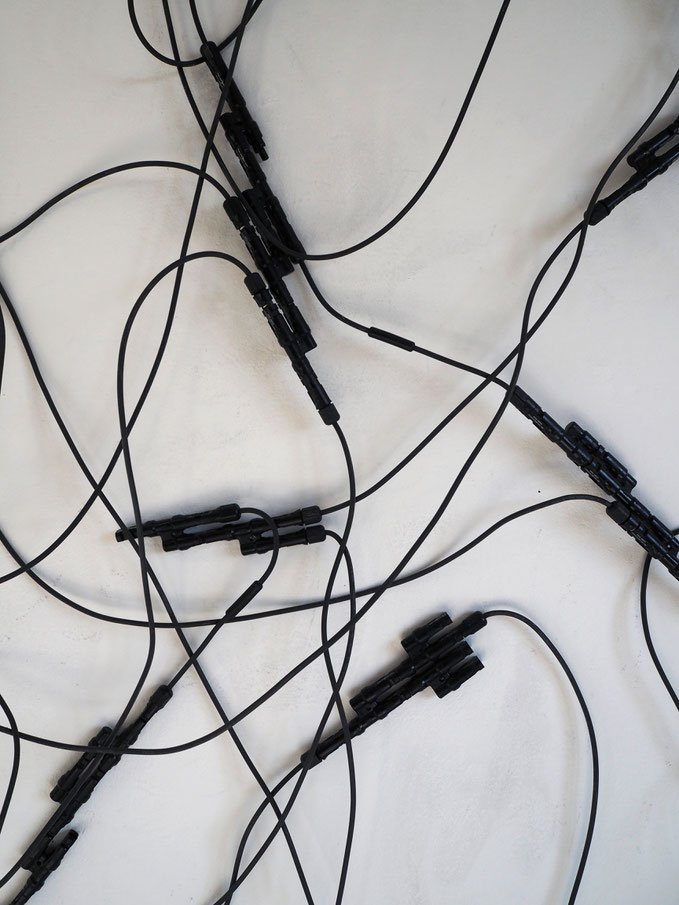 _Gedächtnis
artefact (detail) 2017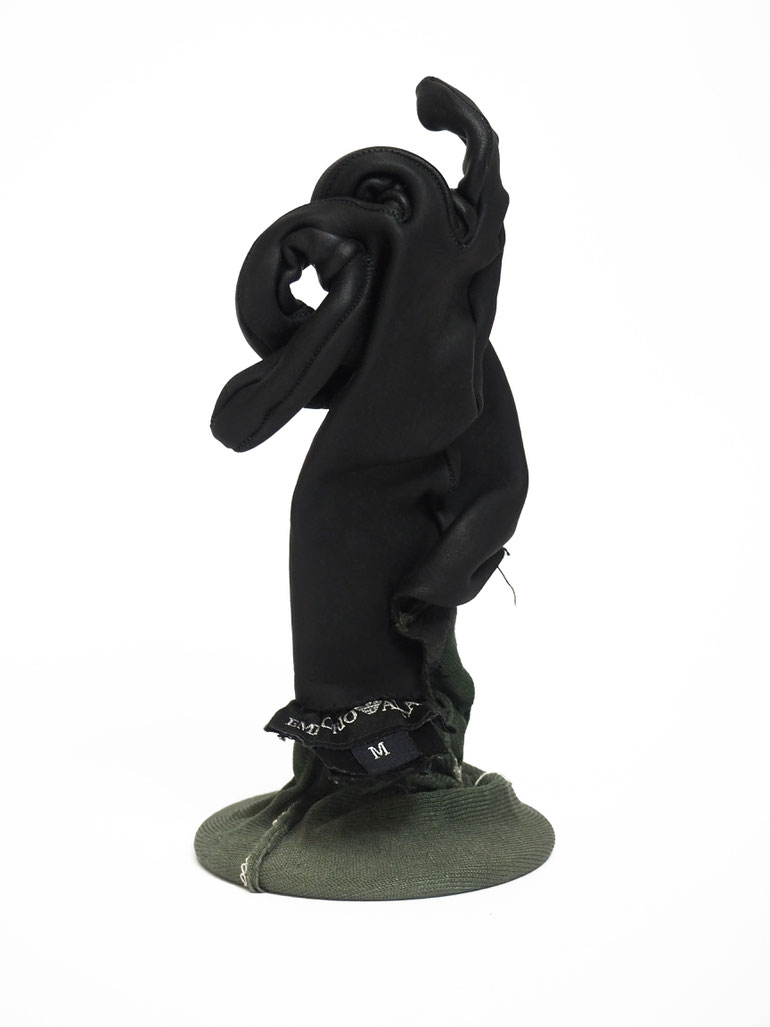 _Monkey`s paw 
artefact 2017
boiled leather, glass stand | 13x4x4cm
_Monkey`s paw 
artefact 2017
boiled leather / variable sizes
"Insolence | The Prerogative of youth", curated by Howard McCalebb, Dada Post, Berlin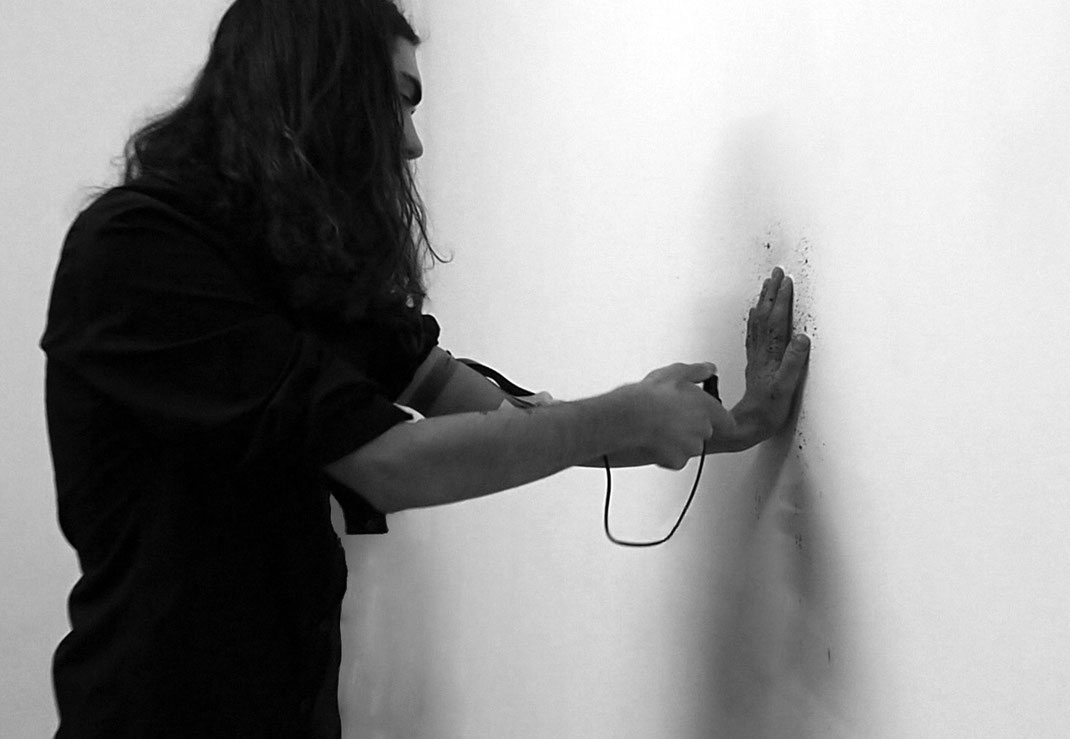 _Sangue Spray
performance 2016
"Emmanation", Kaskl Gallery, Berlin
A tube with a spray cap on one end is connected to my vein.
I rest my hand against the wall and start to push the spray cap.
Blood is being pumped out of the cap and makes appear the negative shape of my hand on the wall.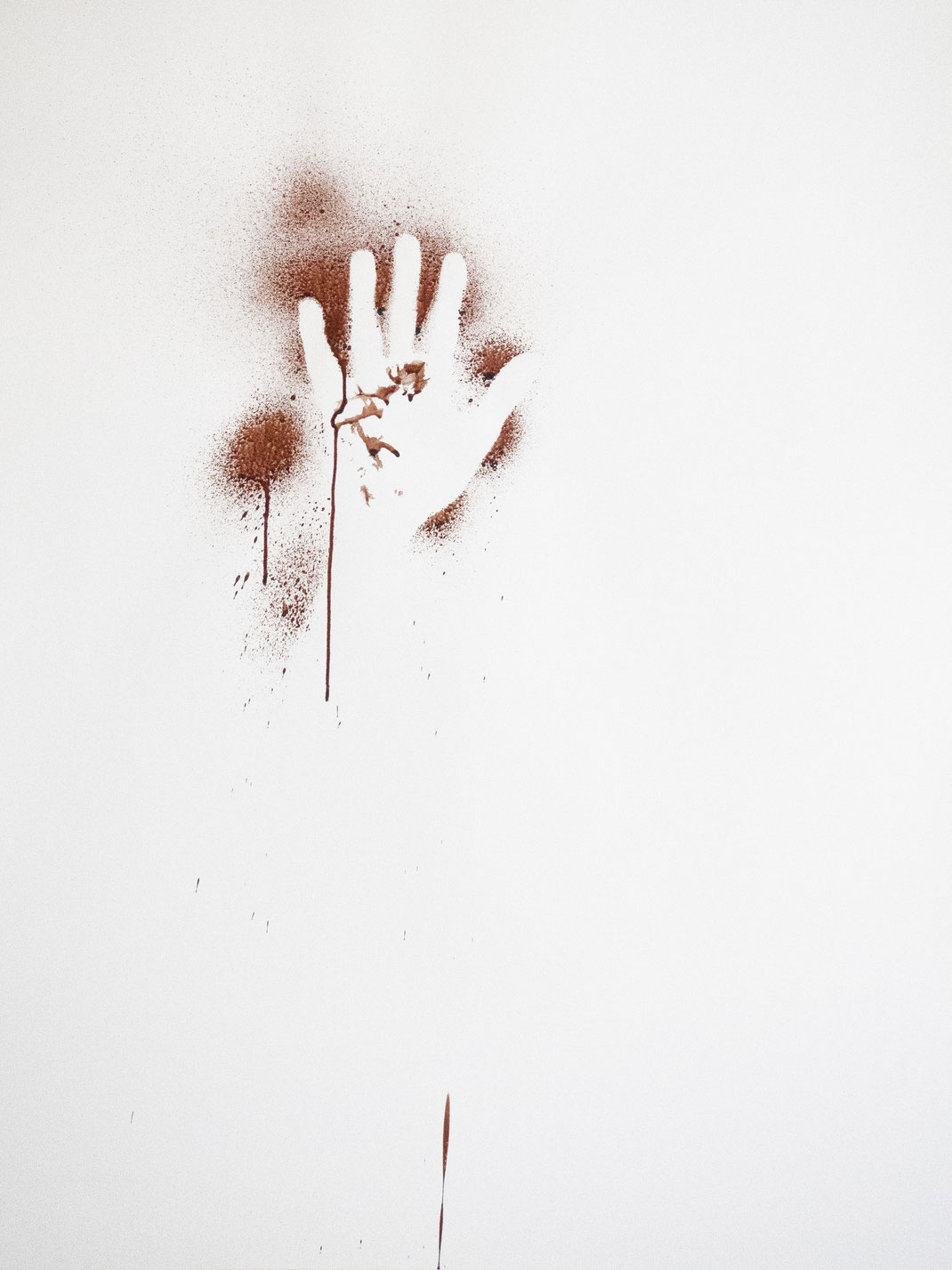 _Sangue Spray
relic 2016
blood on wall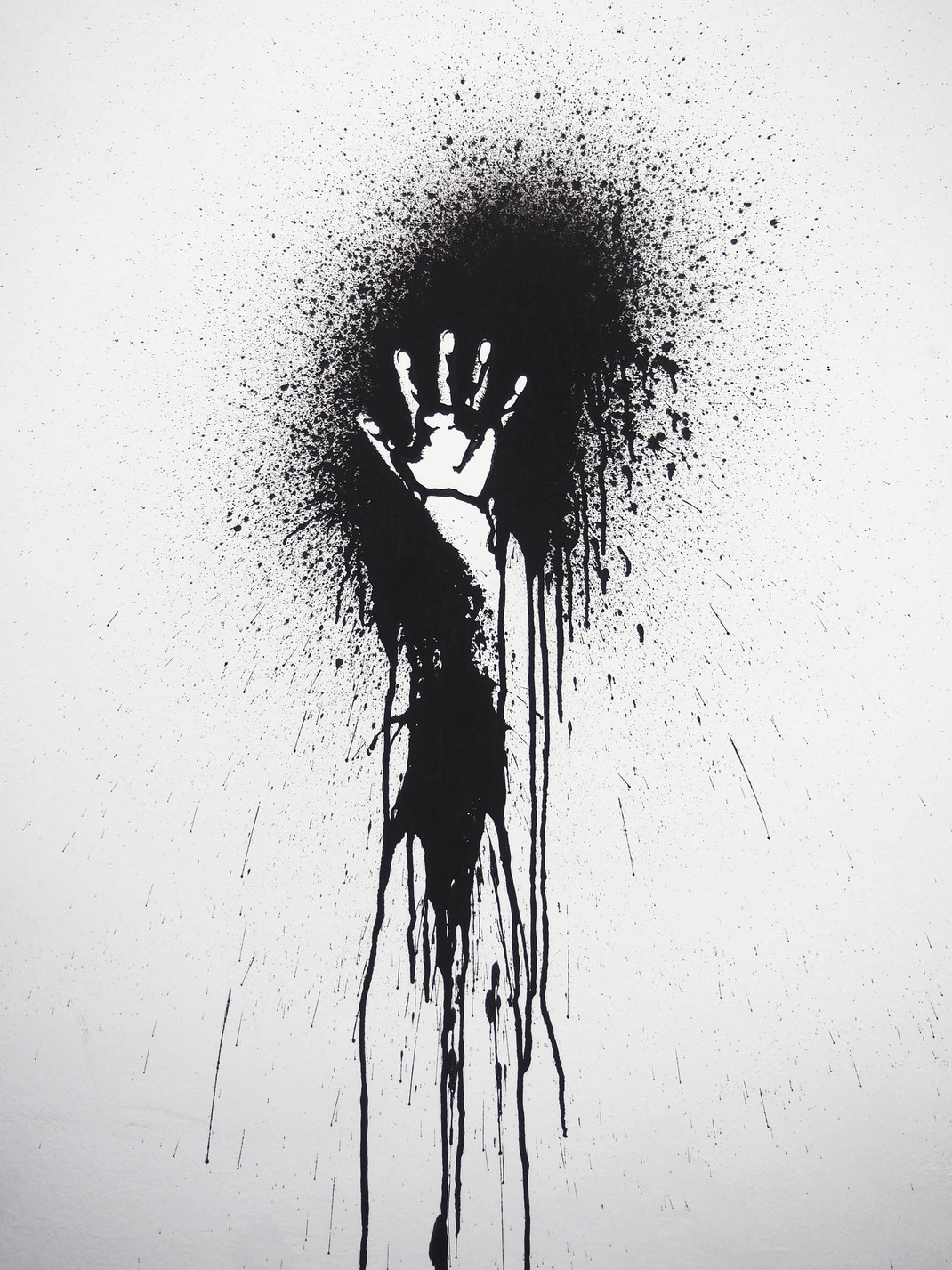 _Paleolithic Spray 
performance/ relic 2016
ink on wall | ca. 186x208cm  
I take a mouthful of ink 
I rest my hand against the wall
I spray the ink through my lips against my hand
the negative shape of my hand appears on the wall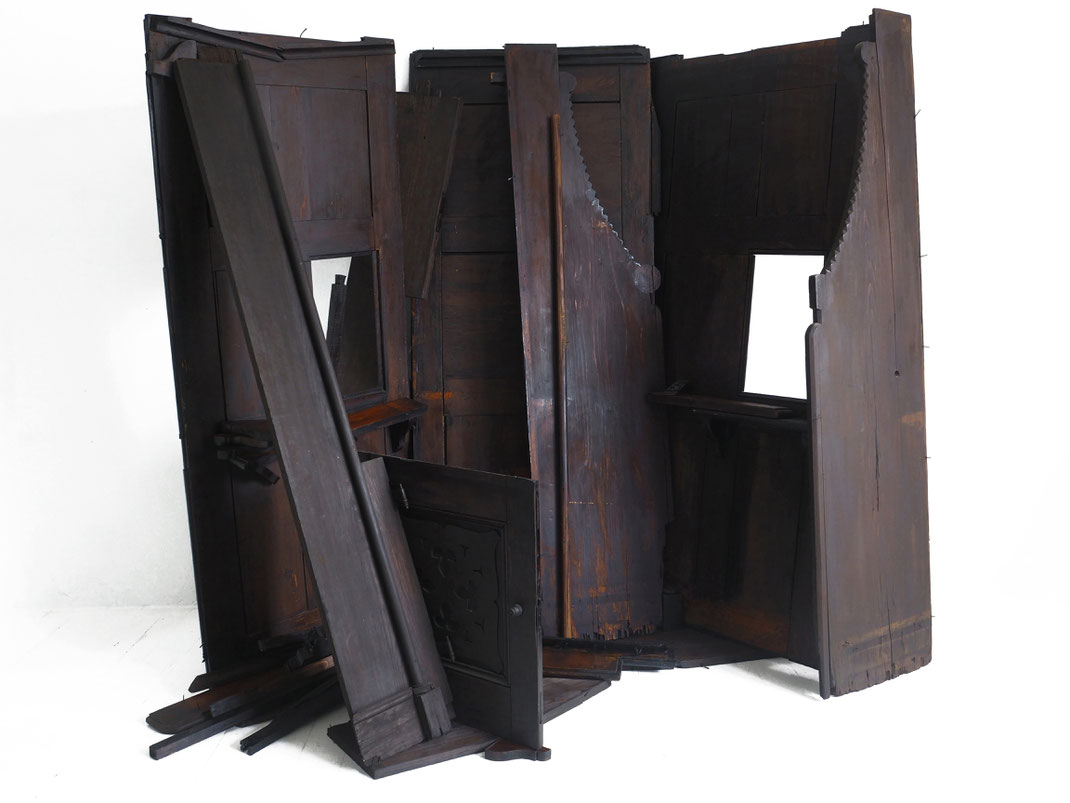 _Confessionale astratto
artefact (studio view) 2016
Wood, nails, bitumen | ca. 202x244x155cm
A confessional that had lost its ecclesiastical function was used as a movie prop and ultimately left behind in the open air.
The confessional drawn by weather was disassembled by me in pieces, painted with bitumen and put together to a freely composed assemblage.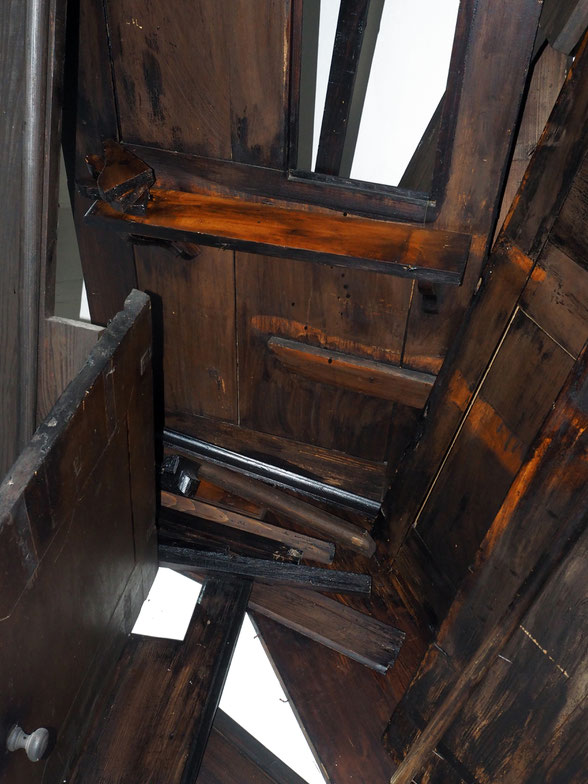 _Confessionale astratto
artefact (detail) 2016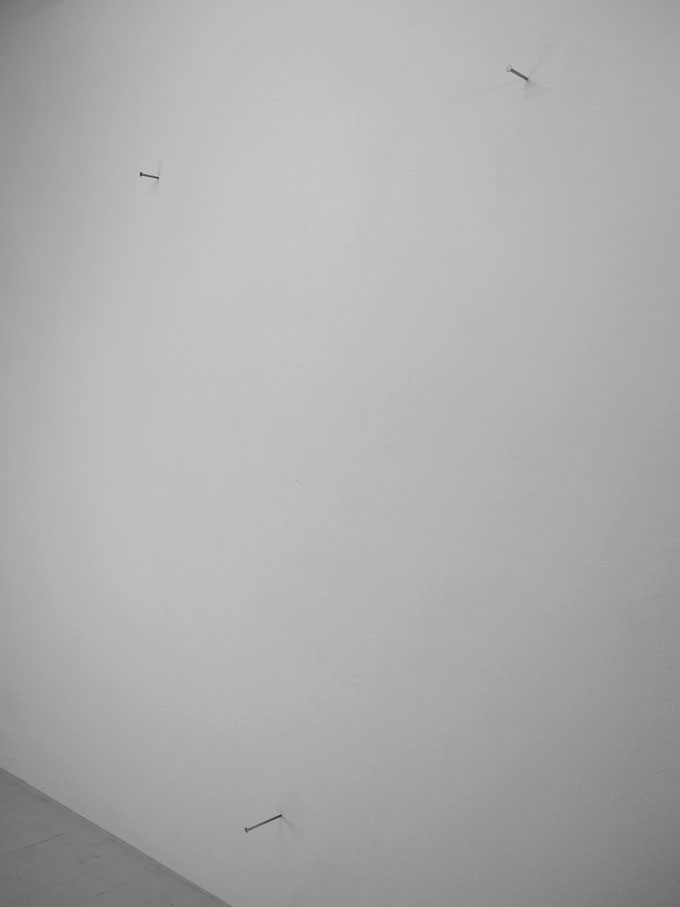 _Tre Chiodi 
artefact (studio view) 2016
nails | 176x152x10,5cm
Three carpenter nails stick out of a wall rendering triangle formation.
The impact holes of the nails correspond with the stigmata of the body shape of the shroud of Turin.

The absent body has to be imagined.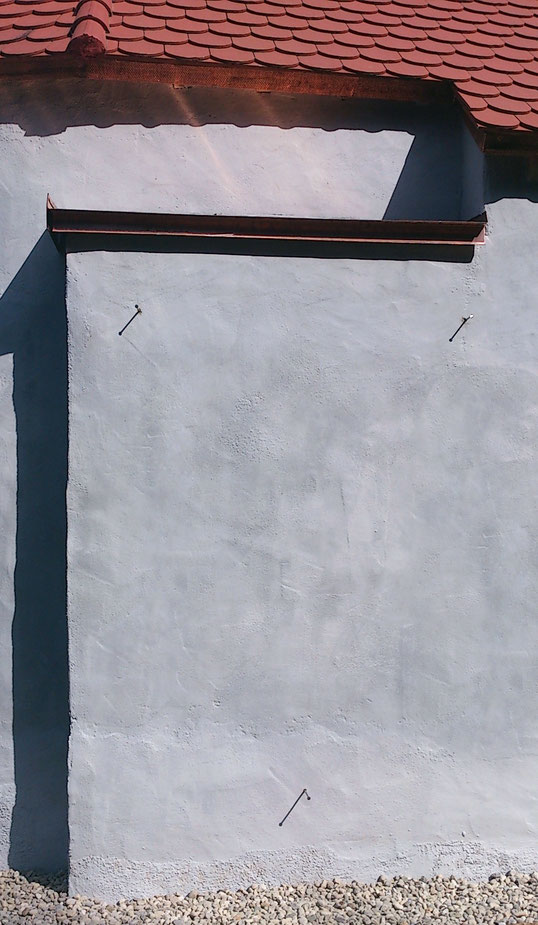 _Tre Chiodi 
artefact  2014
nails | 176x152x10,5cm
permanent installation curated by Philipp Rössle at the Kapelle Ried in Ried, Bavaria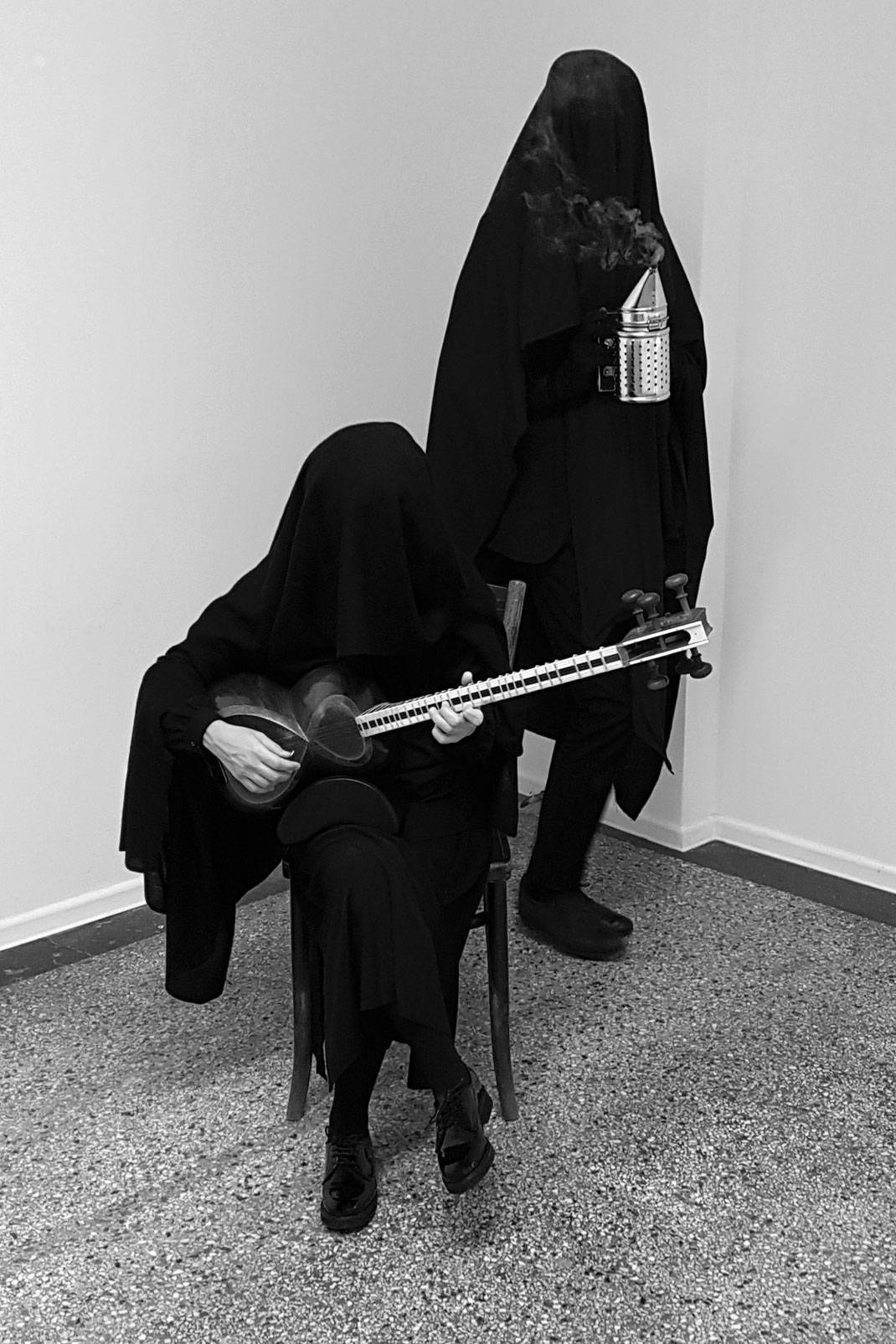 _The Coming God خداوند آزادى (with Elshan Ghasimi)
Performance 2016
"Xenien | Engel mit Sphinx Gesichten | 3. Feier" curated by JHM Schindele, MMS2, Berlin
Elshan Ghasimi plays "The Coming God خداوند آزادى on the Tar.
While she plays I prepare the smoker by giving fire to dried rose petals and incense balls.
Then I slowly move around her pushing the bellows of the smoker to create smoke around us.
Shortly before she finishes I disappear.
_The Coming God خداوند آزادى (with Elshan Ghasimi)
Performance 2016
analogue photography by Max Schwarzmann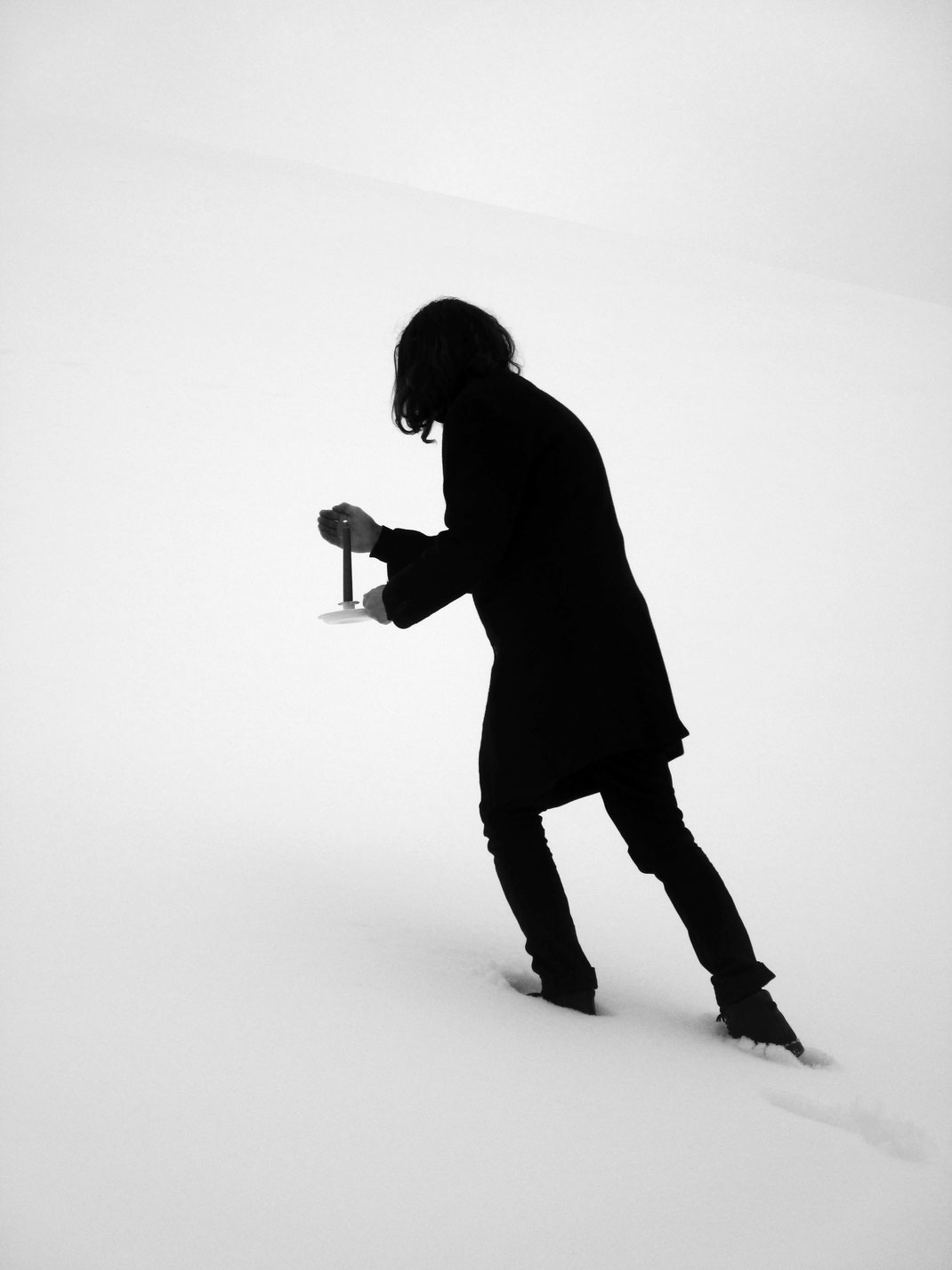 _Candle walk
performance 2016 
analogue photography by Natalia Korotyaeva 
I light a candle and slowly walk up a hill.
I protect the flame till the end.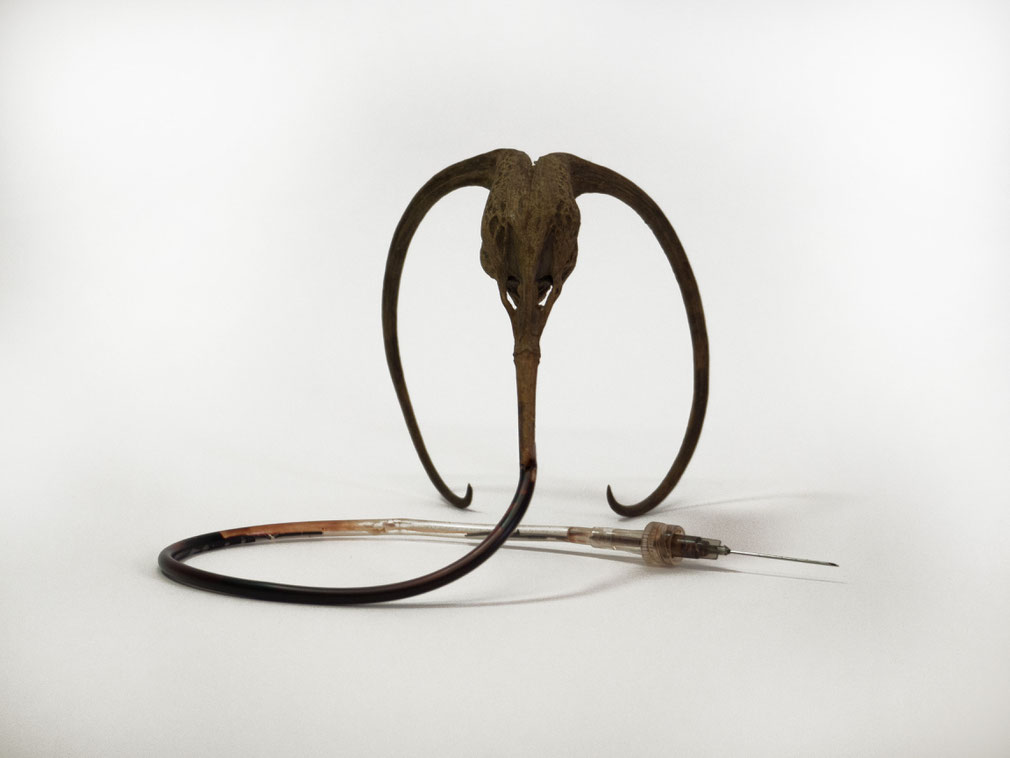 _Zanzara
artefact 2016
dried plant, tube, needle | ca. 15x20x6cm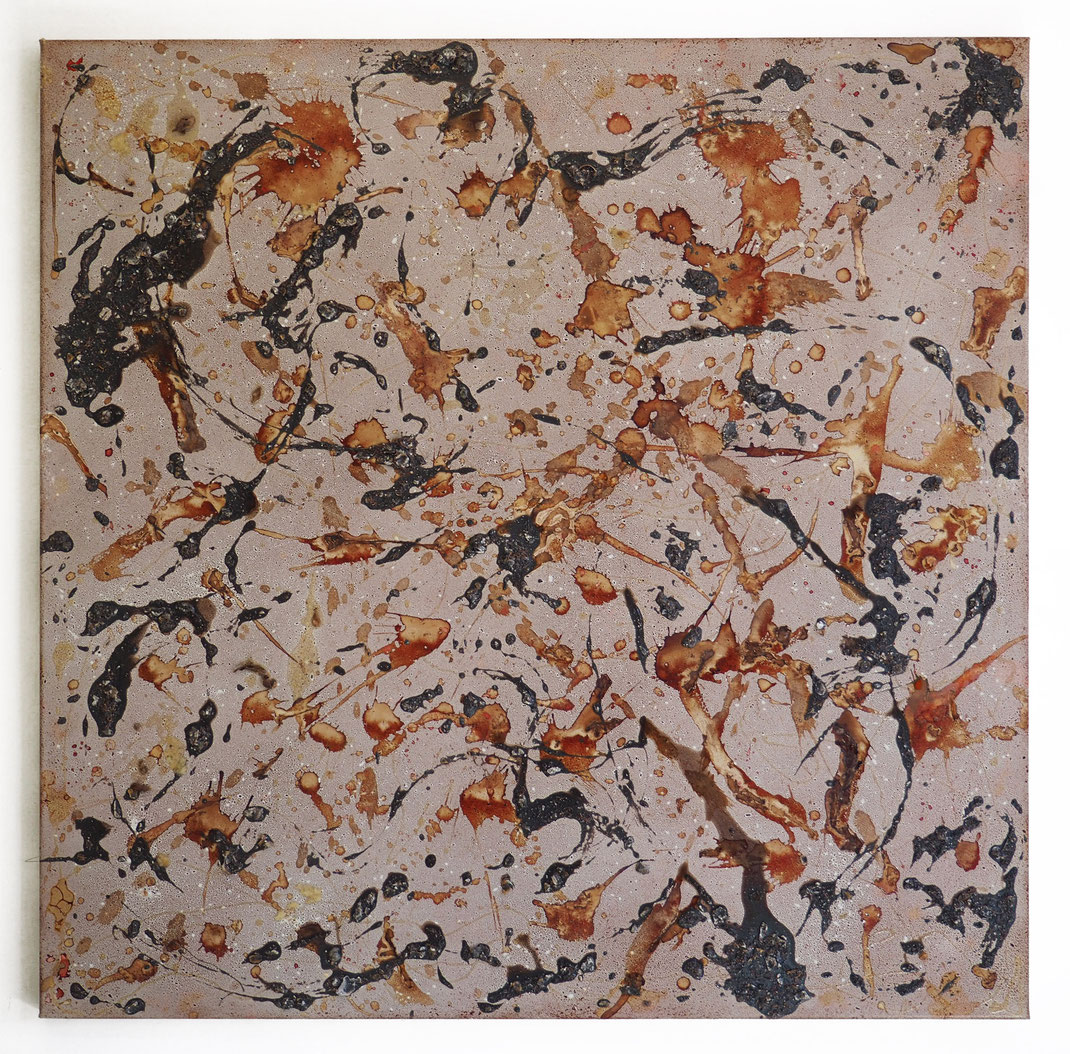 _Skinscape
canvas 2016
blood, graphite dust, aloevera liquid, copper, shell dust and iodine on canvas | 120x120cm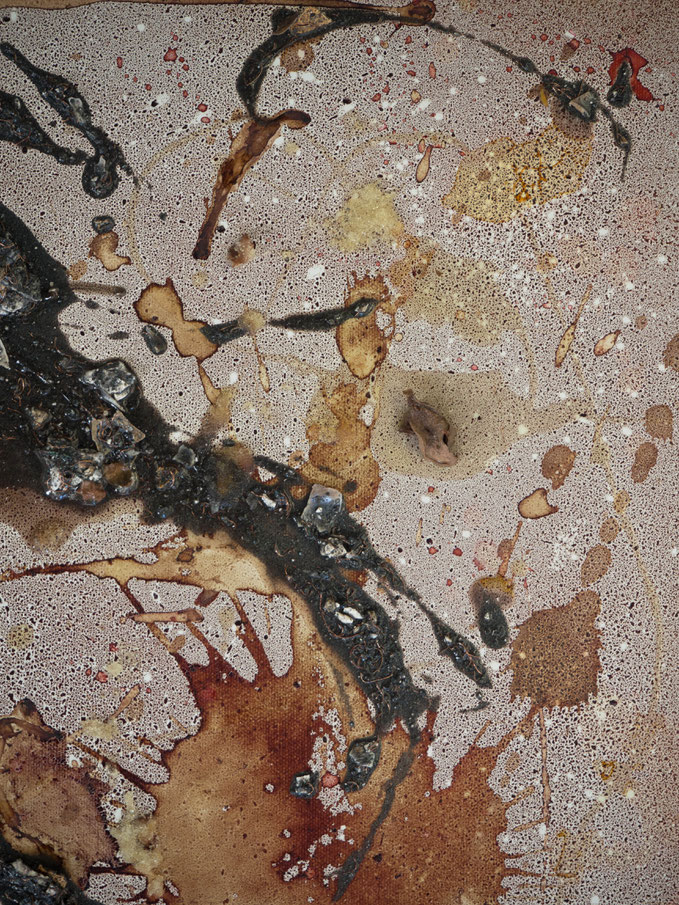 _Skinscape
artefact 2016
detail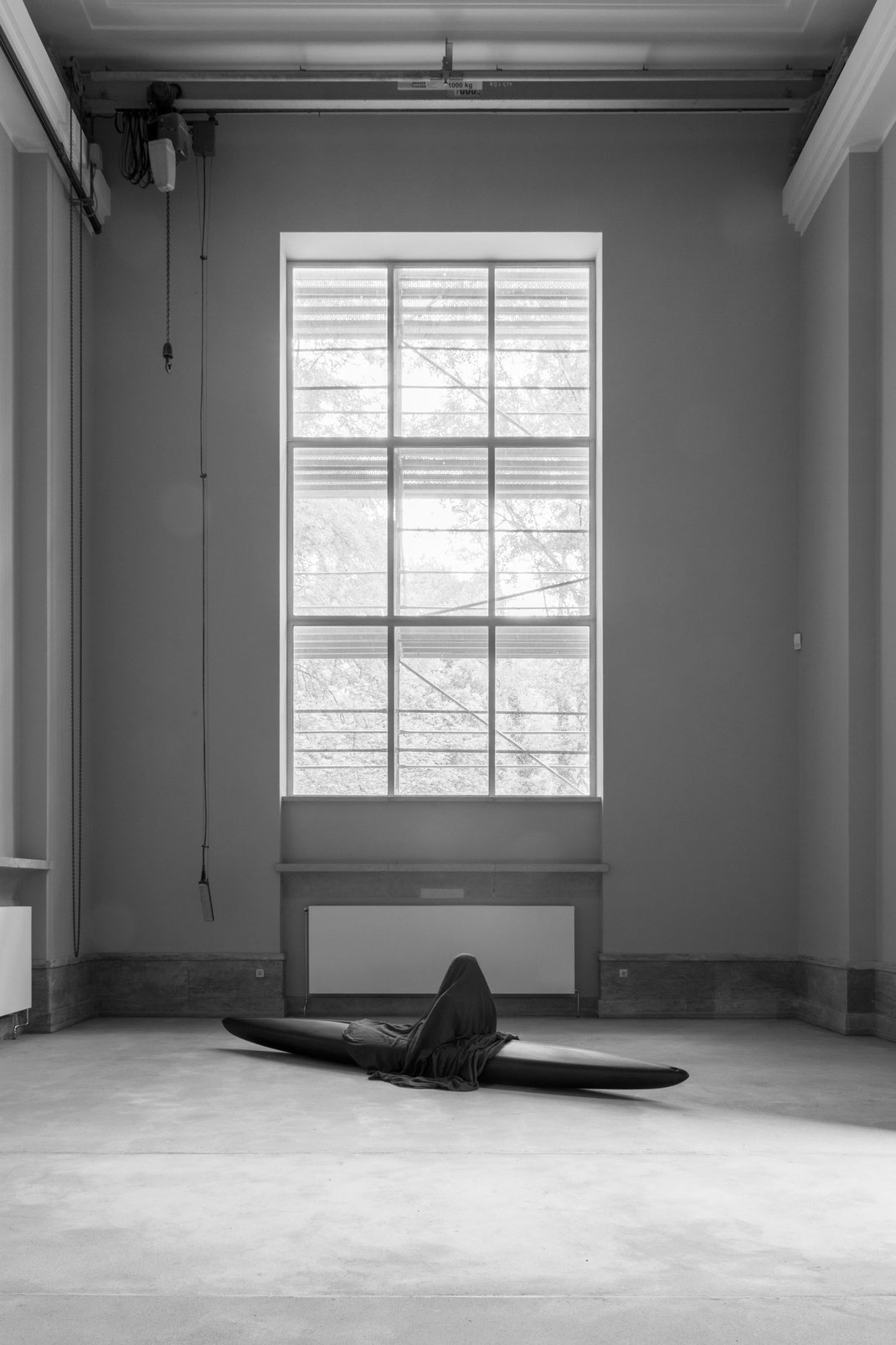 _Aderlass
performance 2015
"Wo der Ort beginnt", curated by Valerie Senden/ Manuel Wischnewski, Kunsthaus Dahlem, Berlin
I am sitting still in a black kayak.
I am covered with a dark cloth except my right arm resting on the kayak edge.
My vein is connected with a tube that ends in a vacuum bottle. 
The blood runs through the tube and fills the vacuum.
After a few minutes the bottle is full and the blood stops running.
I remain in this position for three hours.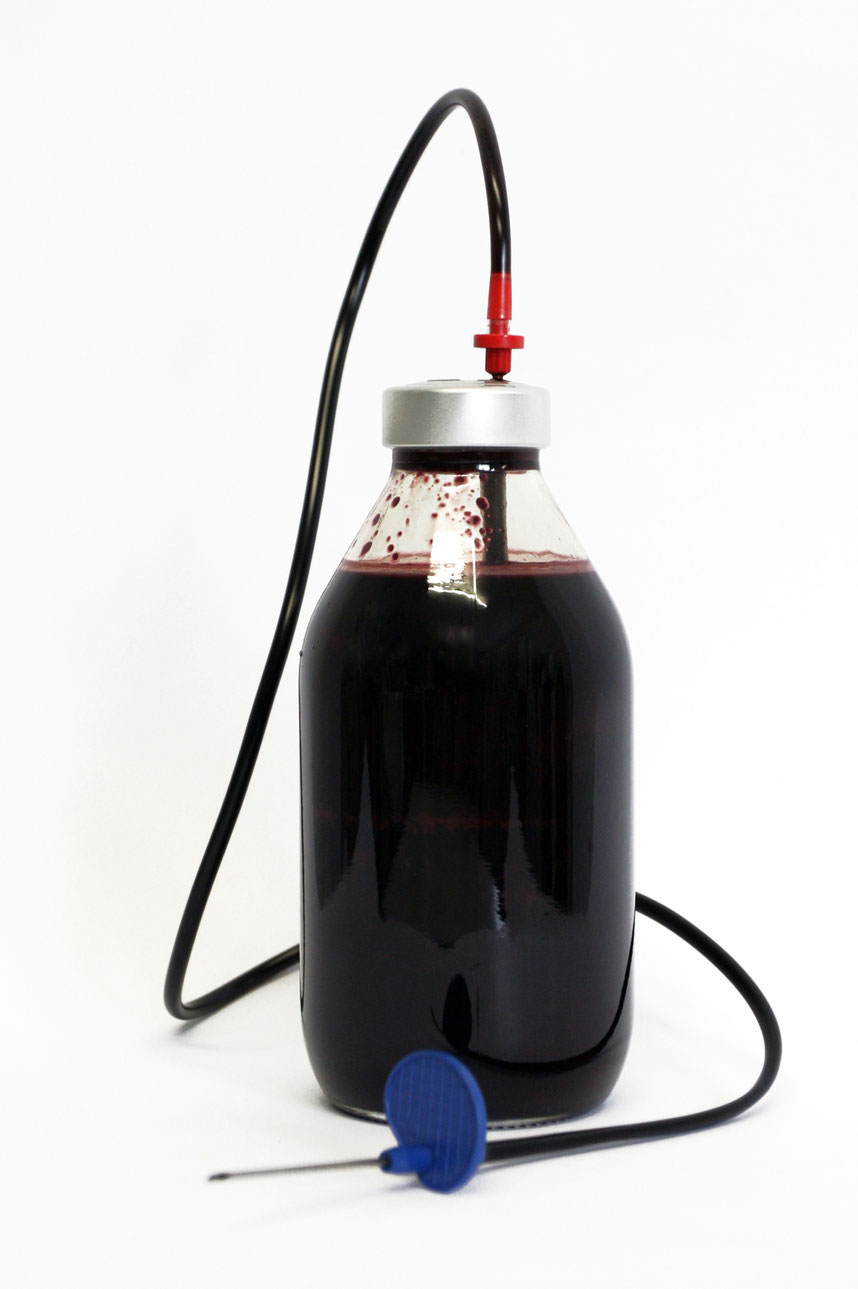 _Aderlass
relic 2015
vacuum bottle, blood, tube, needle | 250ml
_Tezcatlipoca
video 2015
video montage | 3:27min
Sound: UZ - Trap Shit √5 | Aby Ngana Diop - Liital | Legba - Gangan
This Video is a montage of found footage showing Ivory burning in Kenya and Nairobi | Voodoo rituals in Benin and Togo | Train spotting in South Africa |
Panthers on CCTV in Mumbai and Johannesburg.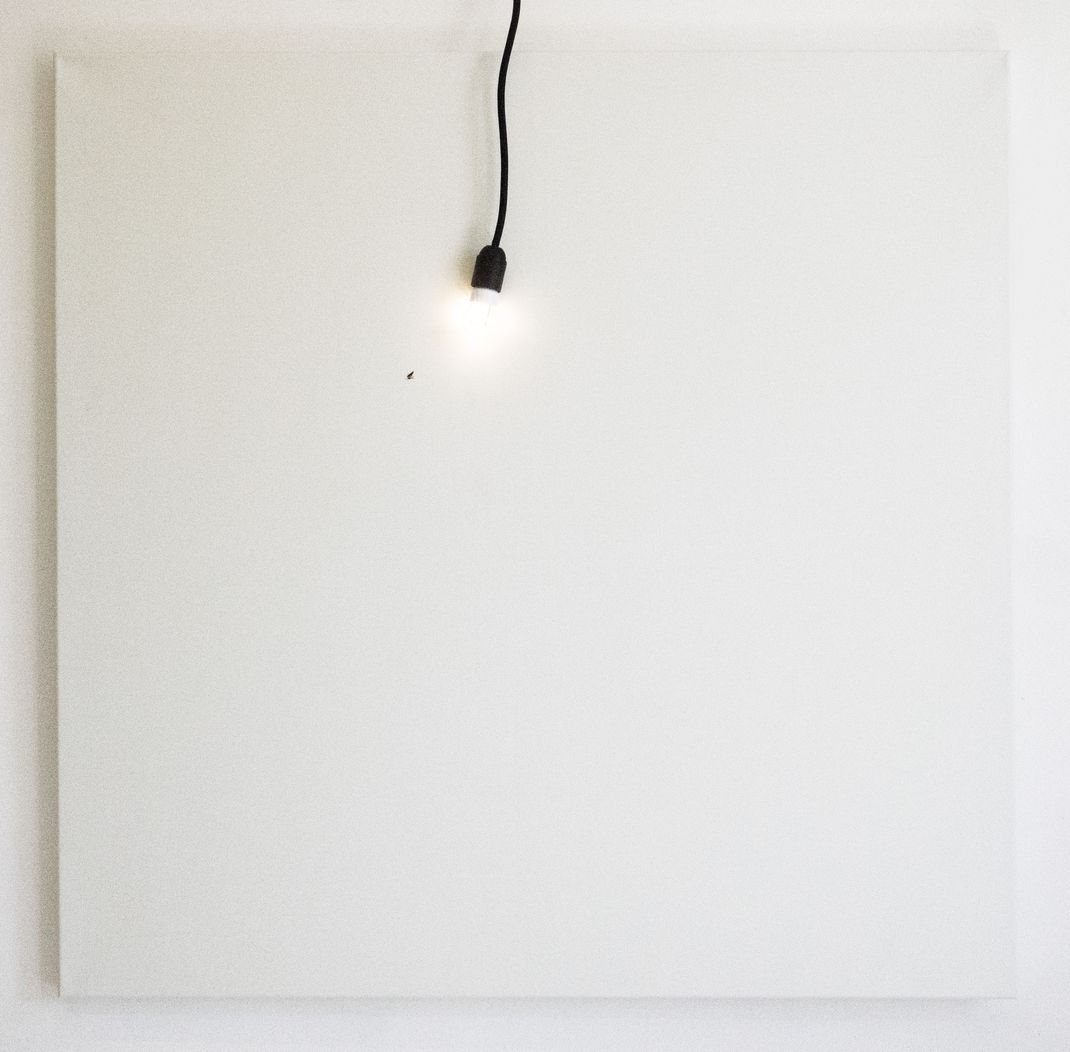 _Death life on canvas
artefact 2015
mosquito, artist blood, cable, light bulb on canvas | 120x120x5cm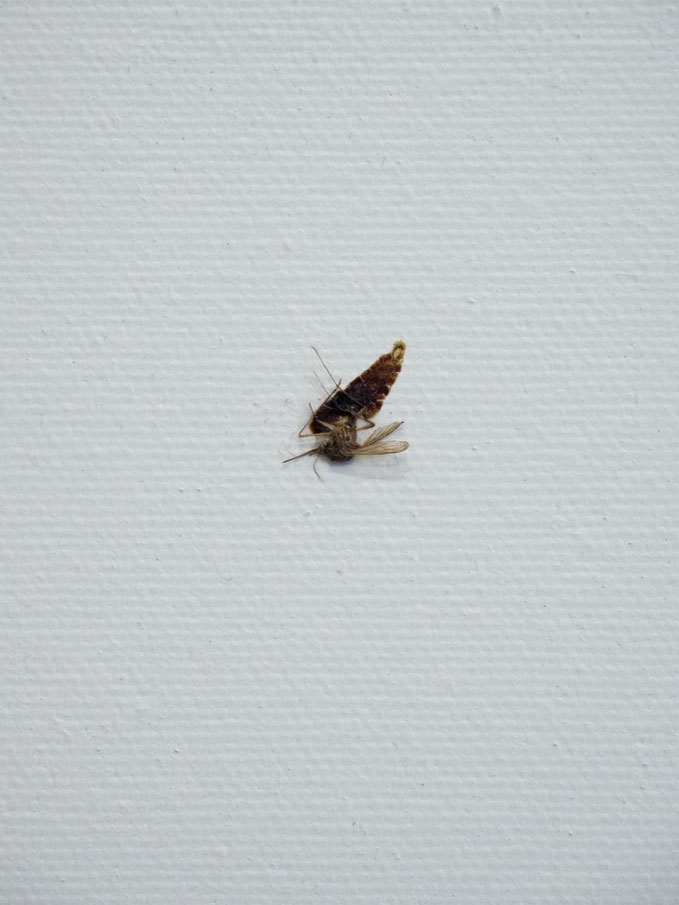 _Death life on canvas
artefact (detail) 2015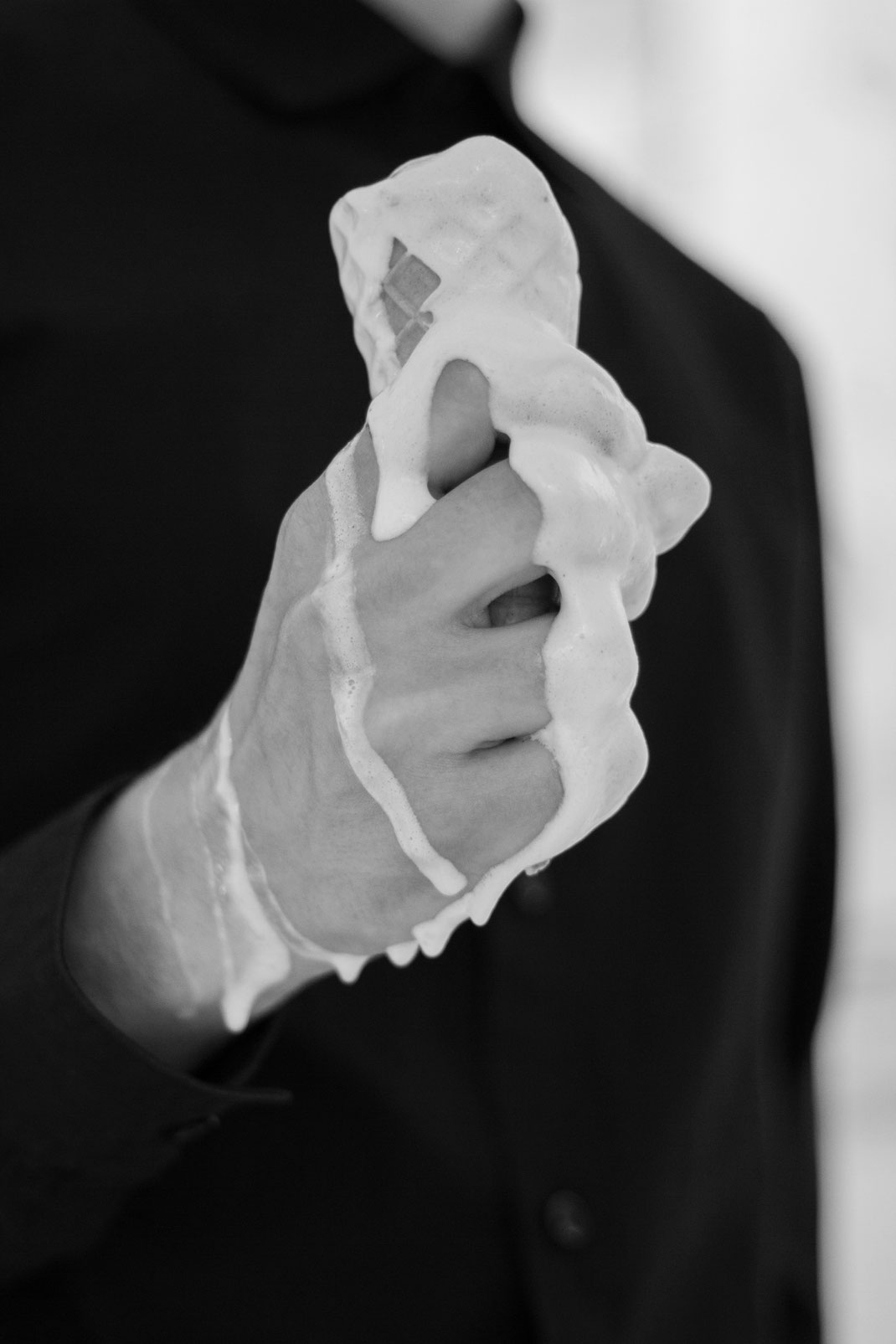 _No Ice Cream
performance 2015
I appear wherever in the public space holding an ice cream.
The ice cream consists of chocolate, vanilla and strawberry.
I stand still until the whole ice cream is melted and dripped to the ground.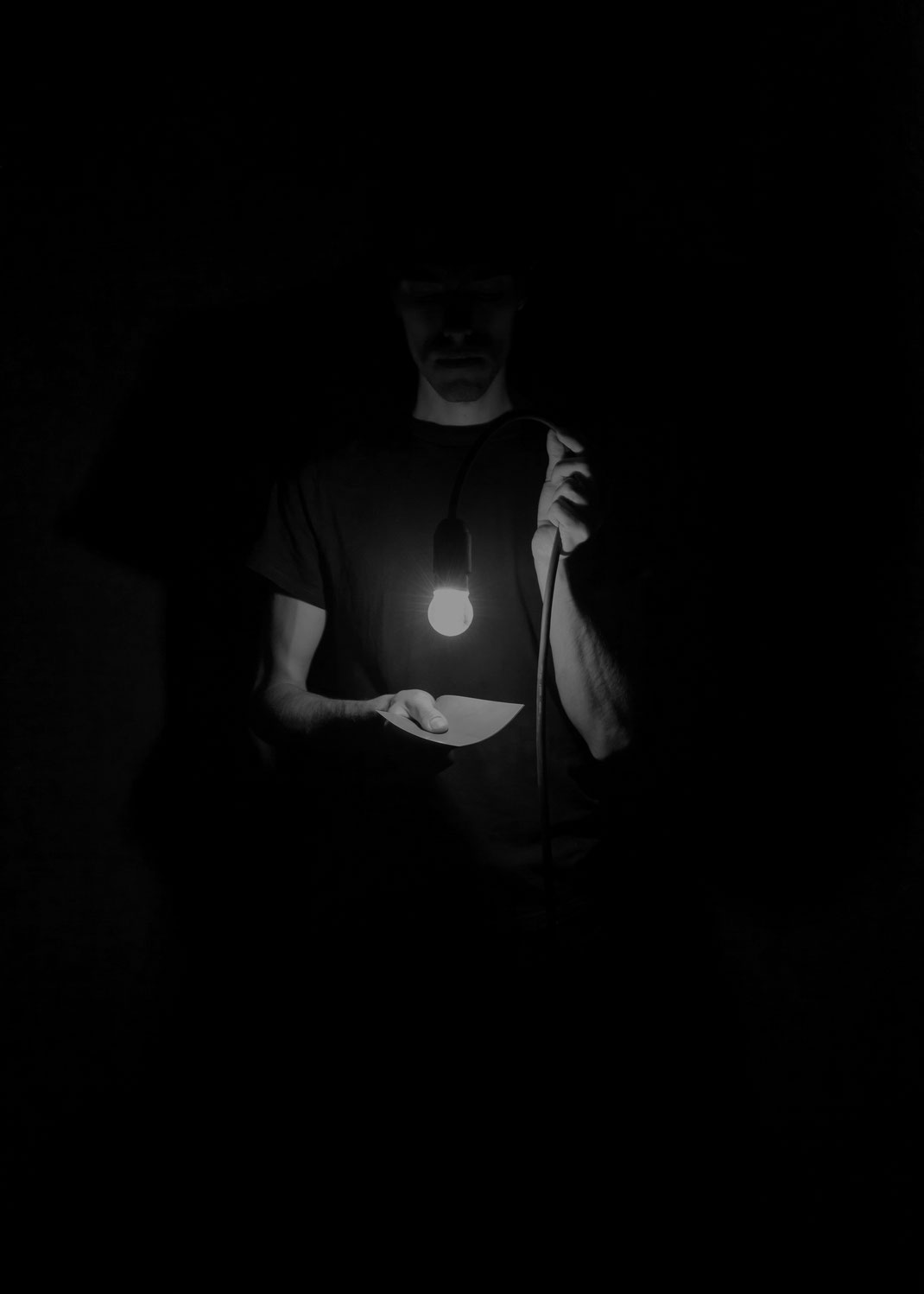 _Souvenir 
performance 2013
"Handlungsbereitschaft IV", curated by JHM Schindele, Blumenthalerstrasse 7, Berlin
The spectator is pleased to pass a black curtain one at the time.
Behind the curtain the visitor finds himself in a small complete dark room with only me in front.
I am holding a light bulb in one hand while the other hand pulls a negative photo paper out of my trouser pocket.
I hold the paper under the light.
After ca. 1 minute or longer most of the visitors decide to leave the room.
In that moment I raise my arm towards the visitor offering the paper.
When the person grabs it I let it go.
Now my fingerprint appears clearly on the paper.
The processing of the photo paper is finished.
The new owner`s fingerprint will not appear on the photo.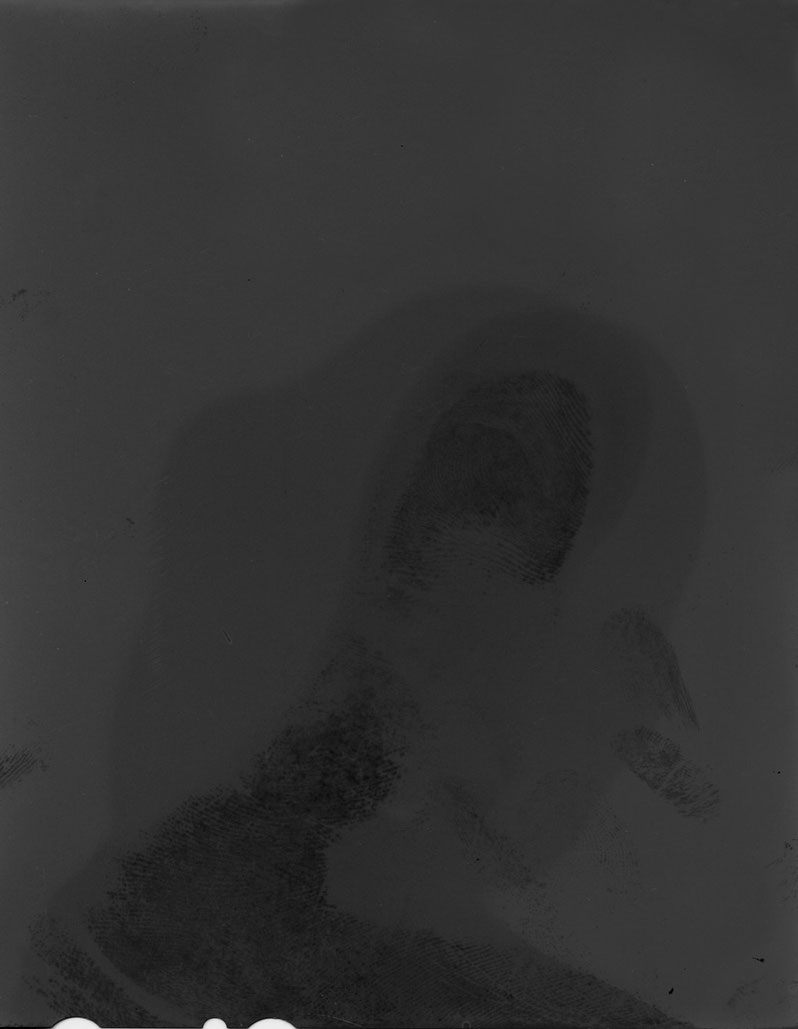 _Souvenir
relic 2013
silver gelatin paper | 12,5x10cm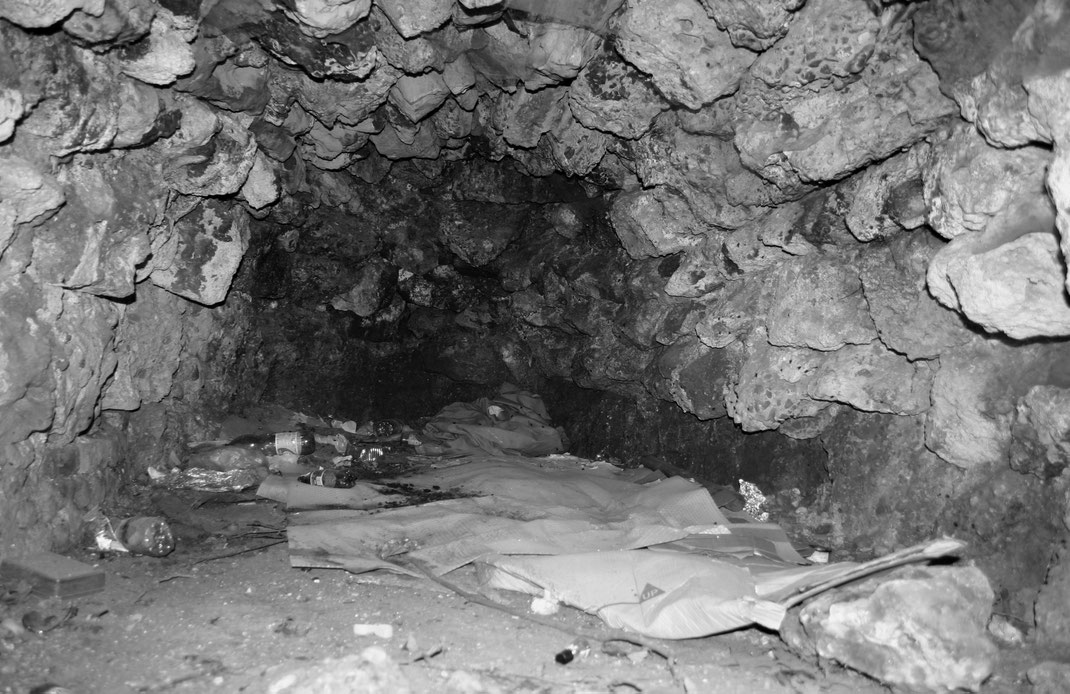 _La grotta
photography 2013
This artificial cave is situated in the Giardini Pubblici in Milan, Italy.
In the 1930`s the park was a Zoo and probably penguins were living in this cave.
The cave is reused as a habitation by homeless people since the Zoo has been shut down in 1992 through the engagement of animal rights activists.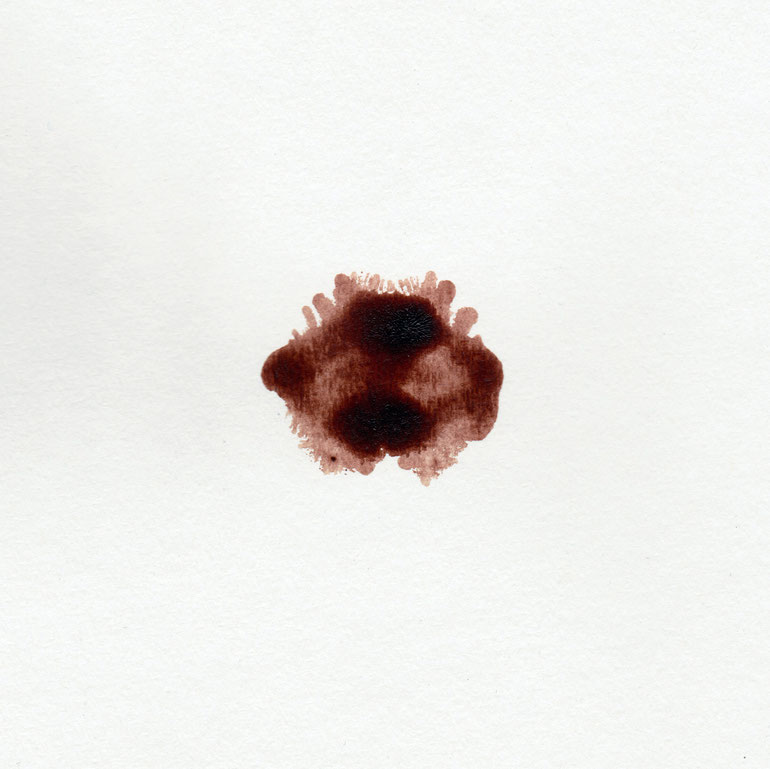 _Blutkuss
relic 2012
blood on paper | 12x12cm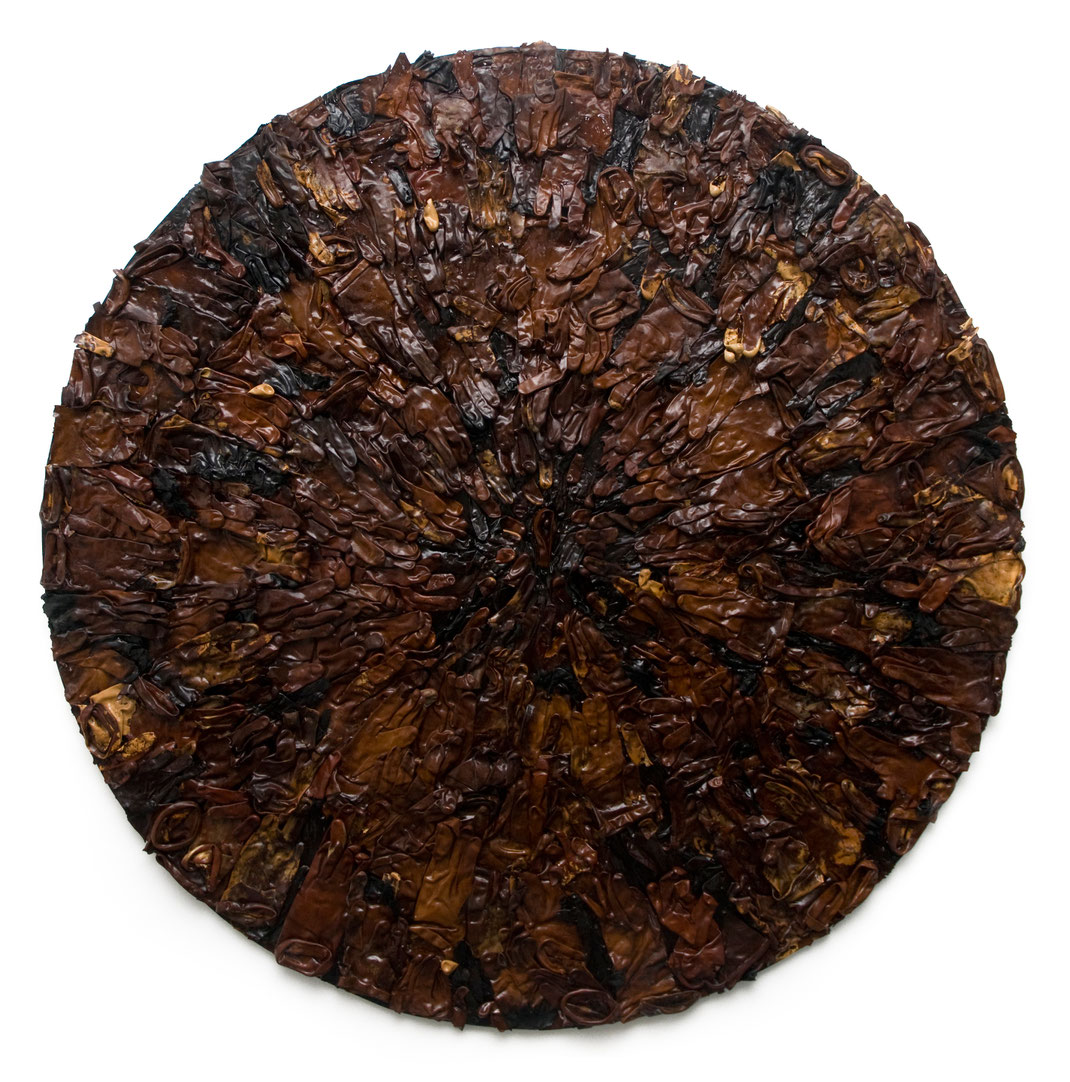 _Madonna
 artefact 2010
gloves on wooden plate | Ø 220cm
"The Magnet", Bereznitski Gallery, Kyiev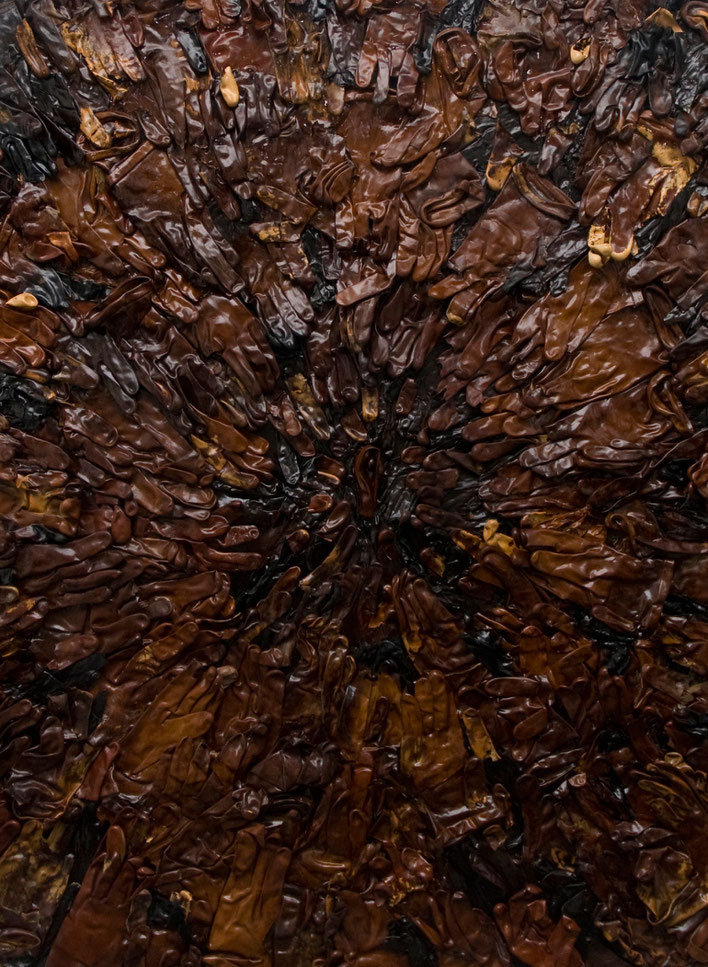 _Madonna
 artefact (detail) 2010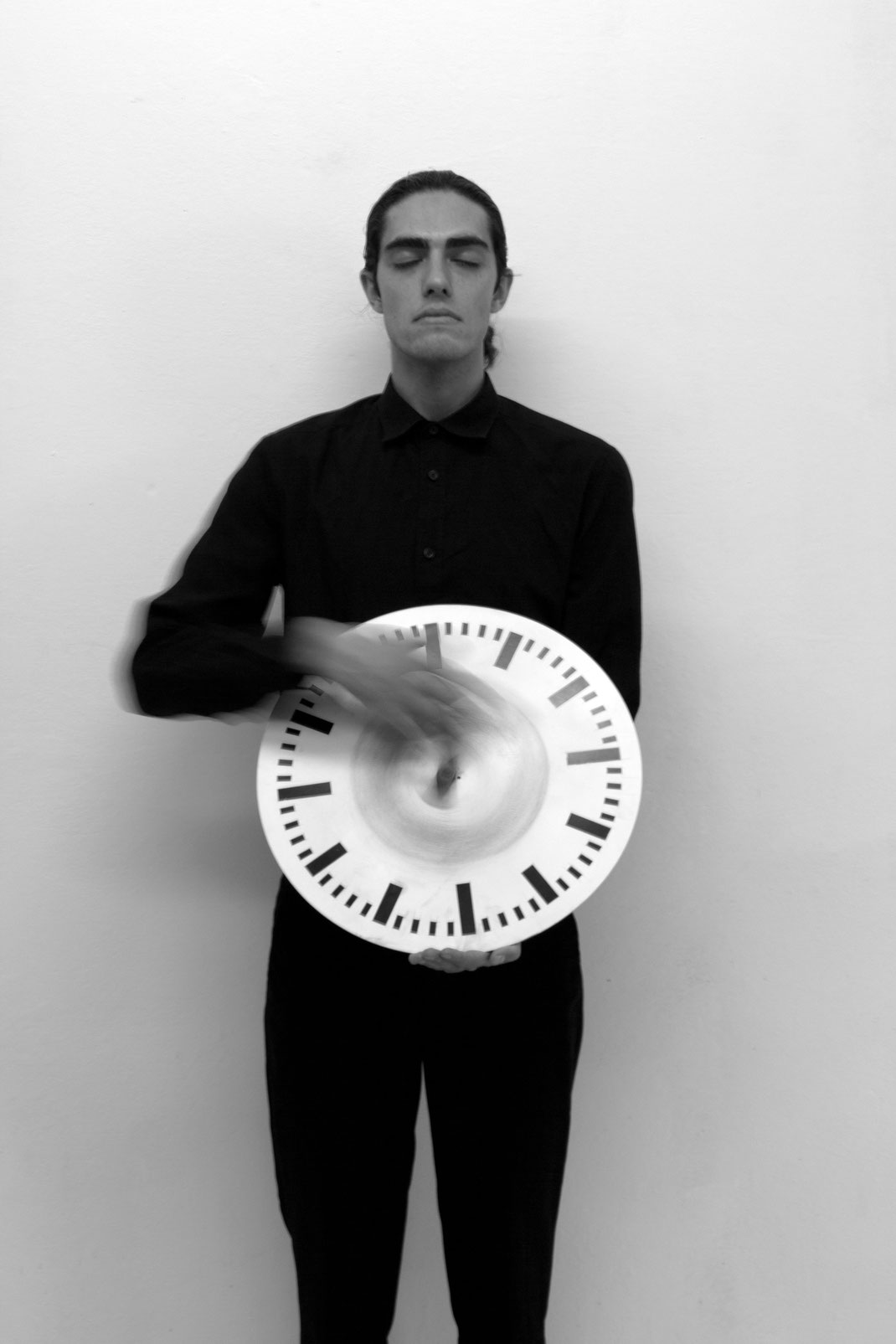 _Uhr
performance 2009
reenactment 2016 | photography by Hanna Karnapke
rotating the clock counterclockwise for 210.688 minutes till the moment of my birth is reached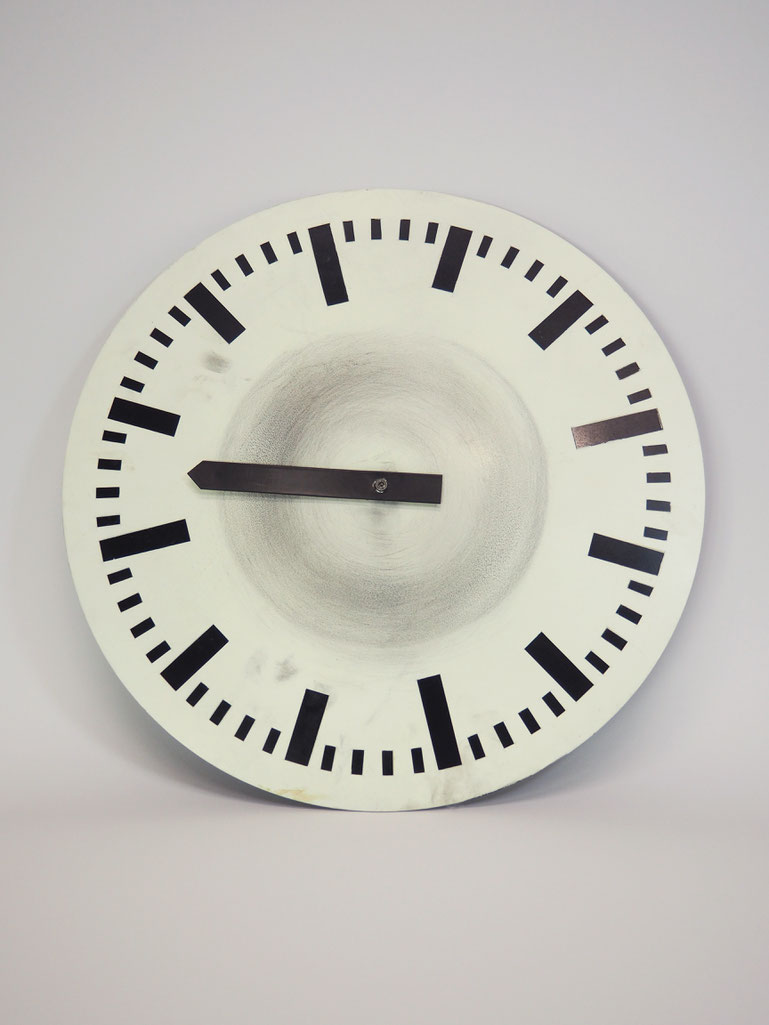 _Uhr
relic 2009
metal / Ø 36cm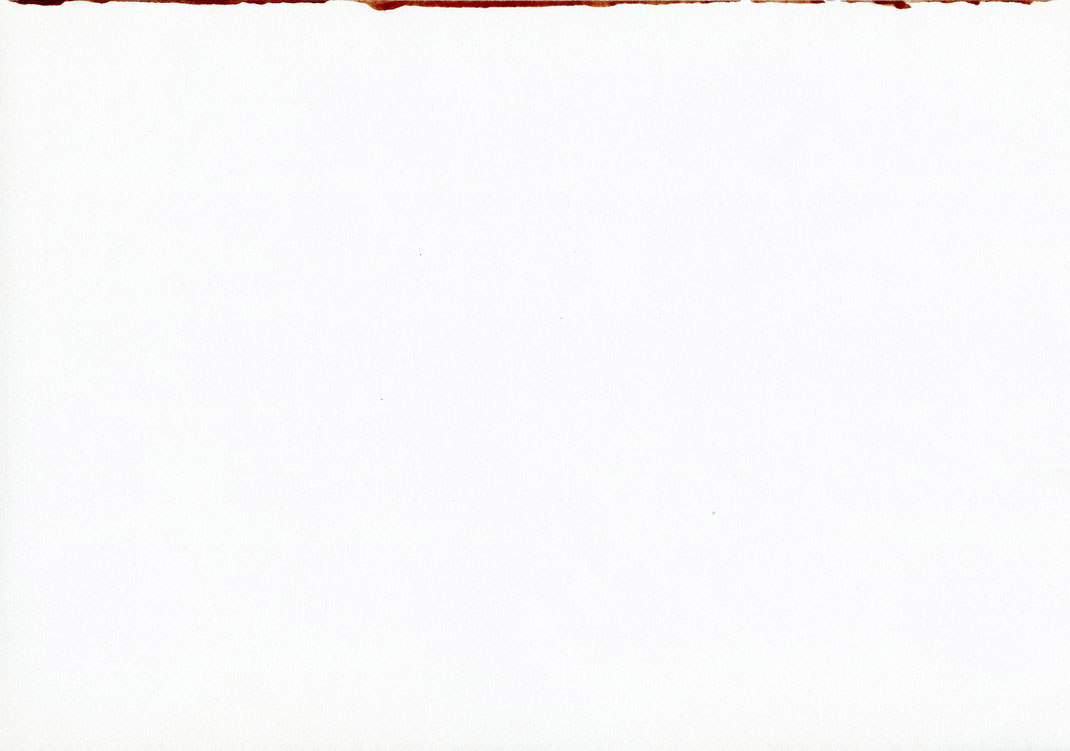 _Papierschnitt (durch beide Mundwinkel)
relic 2004
blood on paper | DinA4